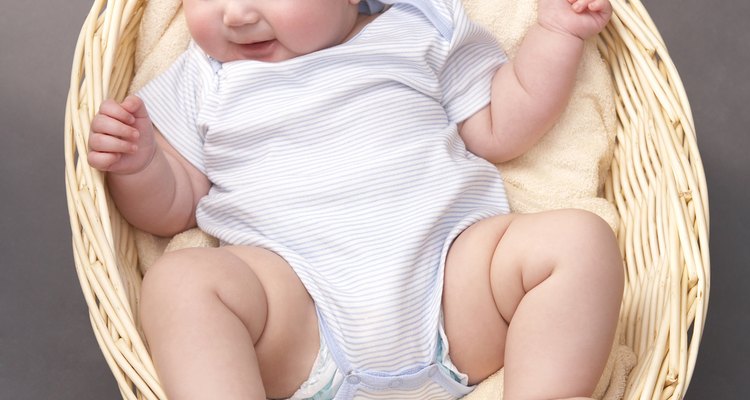 Sky View/Photodisc/Getty Images
Don't throw away money on a big cake that the mommy-to-be might not even want to eat. Instead, make a practical and adorable onesie cake for a show-stopping baby shower decoration. New mothers will enjoy having a wealth of newborn necessities, including onesies and diapers. Construct and decorate a onesie cake, even if you don't know the first thing about baking.
Lay a onesie out flat in front of you and fold in the right and left vertical edges to make a long rectangle the same width as the disposable diapers you will be using. Roll the onesie into a bundle, starting from the bottom where the snaps are situated, up to the neckline. Work slowly to keep the bundle neat and tidy.
Secure the rolled onesie using clear rubber bands at each end. Keep the bands loose to avoid pinching the bundle ends, rather just make them tight enough to keep the onesie from unrolling. Fold, roll and secure all of the onesies in the same way.
Roll up the disposable diapers using the same rolling pattern as used for the onesies. This will keep all of the bundles the same height and make assembling the cake easier. Repeat for any remaining cloth items you have for the cake such as cloth diapers, outfits and burp cloths.
Arrange half of the rolled diapers on a cake platter in a circle, then fill in the shape with more rolled diapers so you have a solid circle of bundles. Stand the rolls up so each bundle is resting on a rolled end, keeping them close together for a neater look.
Stretch a large rubber band around the entire circle of diapers to secure them together. Adjust the band until it centered in the middle of the bundles, then wrap a wide ribbon around the circle. The ribbon, running horizontally around the circle, covers up the rubber band and provides decoration.
Make a second tier on top of the first in the same way as the first but mix in some onesies with the diapers. This circle should be slightly smaller than the bottom tier, just like a stacked wedding cake. Complete the circle with a matching or contrasting ribbon.
Add more tiers until you use up all of the onesies and diapers. Add in the extras throughout the tiers so the mommy-to-be will find them interspersed among the rest of the bundles.
Accent the completed cake with fresh flowers scattered around the platter and placed lightly atop each tier. Set a teddy bear on top of the entire cake to act as your cake topper.
Writer Bio
Leah Perry has been writing articles, product descriptions and content since 2006 for websites like My Dear Child, Modular Kitchen Cabinets and On Track Lighting. The subjects of her works span topics from children to home and garden, home improvement, sewing and cooking.
Photo Credits
Sky View/Photodisc/Getty Images