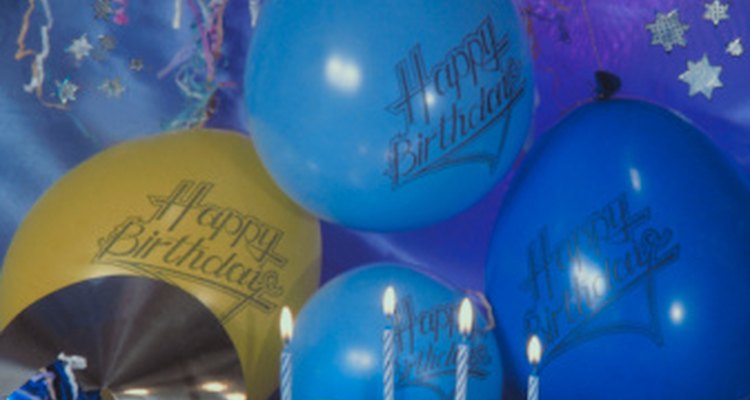 Ablestock.com/AbleStock.com/Getty Images
A birthday cake will complete any 12-year-old's party especially if you can come up with a unique twist. Think about what your 12-year-old's favorite things are and try to personalize their birthday cake according to their interests. After all, a 12-year-old is old enough to want something different than just a simple happy birthday cake, which means you can be as creative as you like.
Food
A fun and unique birthday cake for your 12-year-old would be to turn it into their favorite food. You could make a beef burger cake in a bun, with two layers of cake, colored frosting to create the colors of a classic burger bun and a Rice Krispies and chocolate cake for the burger itself. Alternatively, a pizza would be a great option too, with one round cake for the base, a layer of red and yellow frosting for the tomato sauce and cheese, and different colored candies for the pizza topping.
Animals
If the birthday boy or girl is an animal lover or is particularly fond of a family pet, you could make an animal-themed cake. For the family dog, you could use a loaf cake for the body, a giant muffin for the head, graham crackers for the ears and colored frosting for his coat. Alternatively, you could opt for something more exotic like like a koala bear, using a round cake for the head, donuts for the ears and a smaller cake for the large, black nose.
Sports
For 12-year-olds who loves sports, why not let this be the inspiration for their birthday cake? You could make a soccer field with a soccer ball in the middle using a rectangular cake for the field, coconut flakes and green frosting for the grass and a small round cake, frosted white, for the soccer. For baseball fans, you could create a leather baseball mitt and ball by cutting out the shape of the mitt from a large round cake, covering with brown frosting and a dark brown outline for the stitching. For the baseball, you could use a coconut marshmallow snack cake for the baseball and red piped frosting for the stitching.
Music
If your 12-year-old has a keen interest in singing, you could make her a microphone birthday cake using an ice cream cone for the base, a cupcake for the head of the microphone, black frosting to color it and black licorice lace for the lead. Make enough for the amount of children attending the party, or alternatively, you could make 12 for every year that she has been alive. For aspiring musicians, you could make a guitar-shaped birthday cake by cutting out the shape of the body of a guitar from two circular cakes placed side-by-side and covered with a wood-colored frosting. The long thin top of the guitar can be made using rectangular, chocolate wafer cakes stacked on top of each other. For the finishing touches, use a chocolate cookie for the sound hole, piped vanilla frosting for the strings and marshmallows for the tuning keys.
References
Writer Bio
Emily Watson started writing in 2008. Watson has been published in "Children & Young People Now," "Youth Work Now," "Accent magazine," "The House Hunter," "Gap Year Business," "Timeout Education" and online at Travelmagazine.com and DunningEleyJones.com. She holds an honors degree in history from Newcastle University and has a PMA-Group postgraduate diploma in magazine journalism.
Photo Credits
Ablestock.com/AbleStock.com/Getty Images