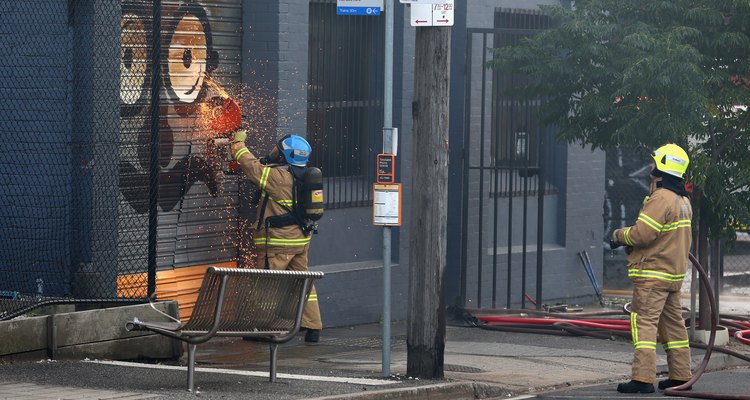 Robert Cianflone/Getty Images News/Getty Images
When the special firefighter in your life finally hangs up his flame-resistant uniform, give him a festive retirement party that celebrates his hard work and service to the community. With fire engine red decor, blazing hot snacks and a photo booth to capture all the memories, your retirement bash is sure to be the hottest party in town.
Party Invitations
Print your party invitations on fire engine red-colored card stock with white or yellow text, and include the official seal or logo of the retired firefighter's fire department on the card. If you can't use a department logo, decorate your invites with photos of vintage firetrucks. To add a lighthearted element to your invitations, include firefighter puns such as, "Sue is finally hanging up her hose," "You're invited to a four-alarm retirement party" or "Sound the alarm! Dave is retiring from the fire department!"
Party Decor
Use classic firefighter colors such as red, yellow and orange as your main color scheme. Cover the ceiling with red and yellow helium balloons, and make faux-flames out of colored construction paper or tissue paper to hang over doorways and windows. For table centerpieces, fill upturned firefighter hats with fresh flowers. Use inexpensive novelty firefighter hats from toy stores or costume shops, and glue a small wooden or plastic base to the hats if they feel too wobbly when turned upside-down. Glue novelty firefighter badges to napkin rings, and place vintage toy firetrucks and fire extinguishers on tables for additional flair. And, finally, frame a series of photos of the retired firefighter with family, friends and colleagues to display on the walls.
Food and Drink
Choose a selection of spicy hot and red-colored treats for your retired firefighter. Set out jars full of red hots, hot tamales and red licorice ropes. Make trays loaded with spicy buffalo chicken wings and hot jalapeno poppers. Serve red velvet cupcakes decorated with firefighter badges or flames and cookies shaped like firefighter hats. Have a large rectangular cake made to look like a fire truck, or make a multi-tiered cake in the shape of a fire hydrant. Keep the fire engine red theme going in your beverage selections as well, serving drinks such as bloody Mary's, apple martinis and ruby red grapefruit punch.
Entertainment and Favors
Rent a karaoke machine and load it with tunes that a firefighter would get a kick out of, such as "Burning Down the House," "We Didn't Start the Fire," "Ring of Fire" and "Light My Fire"; then invite party-goers to take turns serenading the retiree. Collect photographic memories of the night's festivities by setting up a photo booth in the corner. Set a camera on a tripod with a remote trigger, and place a table full of photo "props" nearby, such as firefighter hats and fake mustaches. For favors, have custom matchboxes printed with the party honoree's name and the retirement party date.
References
Writer Bio
Jessica Taylor has been writing professionally since 2007. She has contributed a number of articles online on topics ranging from fashion to technology to travel. She has a bachelor's degree in English literature from the University of South Florida.
Photo Credits
Robert Cianflone/Getty Images News/Getty Images