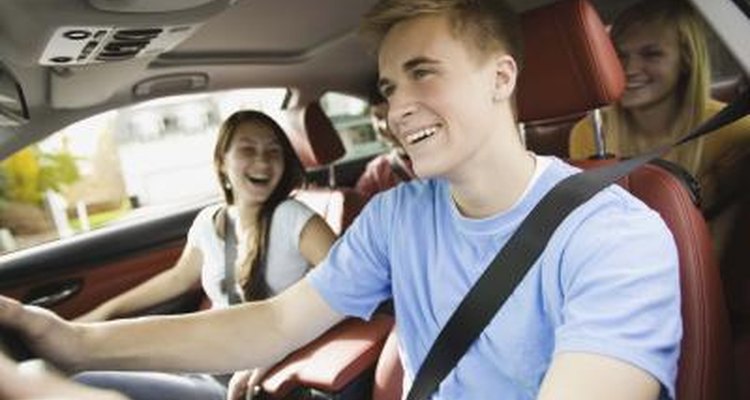 Jupiterimages/Brand X Pictures/Getty Images
Getting a driver's license marks a major milestone in a teen's life. Mark the event with more than just a spin around the block. Plan a party that lets your teen celebrate with his friends in a safe environment at home and not out on the open road.
Invitations
Rev up the party from the start with auto-themed invitations. Design your own using license plate clip art. Instead of a car license number, put the details of the party -- the date, time, location -- on the license plate. Or feature your newly-licensed driver on the front of an invitation you design yourself. Scan his license and include party details on the inside cover. Use clip art of car keys, your teen's dream car or wheels to accent the invitations.
Decor
Continue the car theme when selecting party decorations. Select clip art of various traffic signs such as stop or yield as well as a traffic light. Email them to your local print shop to enlarge and print them to decorate walls. Black trash bags painted with white and yellow lines provide roads for the signs on the walls. Use these for tablecloths as well. Enlarge the scan of your teen's driver's license to place mat size and laminate.
Food
Chow from the fast-food drive-thru continues the celebration as your newly-licensed driver takes his friends for a spin. Equip the shotgun passenger with a camera to capture the moment when your new driver places his first at-the-wheel drive-thru order. Be ready back home with your camera to quickly take more pictures of your teen and friends around the car with their food bags.
Party Games
Use your teen's driver's manual to write up a mock driver's test. Select some questions with obvious answers and others that are a bit more challenging. Have a prize for whoever answers the most correctly. For a lighter approach to party games, have guests take "Seventeen" magazine's driving quiz, "What Car Should You Drive?" A car safety quiz at Yale Medical Group has enough questions to drive home the point of being careful without turning the party into a sermon.
Entertainment
If you teen is a gamer, the answer to keeping the guests busy for hours is electronic. Have your teen pick out a couple of car-driving games and provide prizes for the best drivers. Movies with intense car-chase scenes provide teens with plenty of thrills plus give you as caregivers and payers of insurance premiums the opportunity to remind new drivers about safety expectations.
Gifts
Celebrating a teen's new driver's license isn't like a birthday unless it is done in conjunction with turning age 16. Gifts could be optional if it isn't a birthday party. Unless specified otherwise on the invitation, assume guests might bring gifts. Suggest car-oriented gifts such as a car wash token, a big sponge, air fresheners, a travel mug, car wipes or a CD wallet.
References
Writer Bio
Amy M. Armstrong is a former community news journalist with more than 15 years of experience writing features and covering school districts. She has received more than 40 awards for excellence in journalism and photography. She holds a Bachelor of Arts in communications from Washington State University. Armstrong grew up on a dairy farm in western Washington and wrote agricultural news while in college.
Photo Credits
Jupiterimages/Brand X Pictures/Getty Images