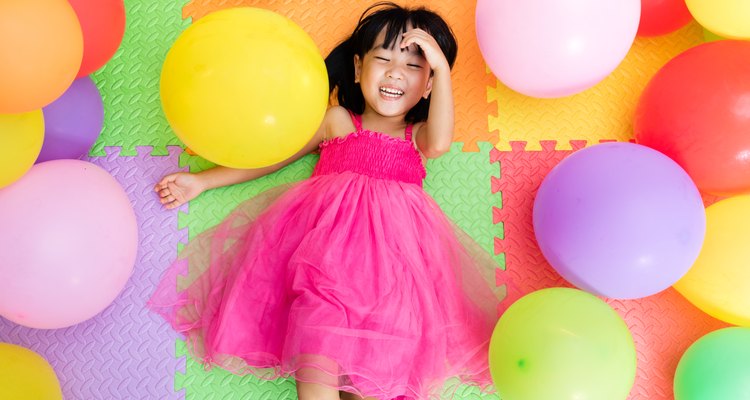 kiankhoon/iStock/GettyImages
Throwing the Birthday Bash of the Year Without Losing Your Mind
You may want to avoid your birthdays so you can stay forever young. But kids' parties bring out your inner party animal. There's something magical about planning the perfect party and seeing it come to life. Pulling together the pieces can feel overwhelming, but having a step-by-step plan makes the process easier.
Start With Logistics
Before getting too caught up in the theme and decorations, nail down the important details. Choosing a date and time for the party helps other aspects fall into place. Schedule the party for mid-morning or mid-afternoon if you want to skip serving a full meal.
Consider the age of the kiddos on the guest list. Young children often take naps in the afternoon, so plan accordingly. Your little one's schedule should serve as your guide. If your royal prince turns into a fire-breathing dragon mid-afternoon, hold the party in the morning when he's happy and smiling.
Plan the Type of Party
A birthday party can be anything from a simple home party to an intense, high-activity afternoon at a bounce place. Where does your child fall on the scale? If she's old enough to voice her opinion, get her input.
Choose the theme and specific activities. Holding the party at an entertainment venue makes things easy. The entertainment is built in. You just show up and help with crowd control. If you're hosting a party at an entertainment center, reserve your spot as soon as you choose a date. Prime party slots fill quickly at popular spots, so you may have to change your plans if you wait too long.
Home parties mean you serve as the caterer, entertainment director and cleanup committee before and after the party. But home parties can be more intimate and much cheaper. Plan kid-friendly activities that are easy to set up and play. Create a schedule including the entertainment, food and other activities.
Make Your Guest List
No matter how much your child may beg, not everyone can make the cut. Set a cap based on where you plan to hold the event. How many kids can fit comfortably in the venue? Cost is another factor, especially for an off-site party. Most venues charge a per-person rate, which can add up quickly.
Send the invitations three weeks before the party, so your guests can get your soiree on the schedule. Early notice also gives you time to count the RSVPs to make sure you have enough supplies. Follow up with invitees who haven't answered the week before the party.
Create a Menu
Even if you don't serve a meal at the party, it's a good idea to have some munchies on hand to fend off any hunger-fueled temper tantrums. If you're hosting little ones, choose foods that don't pose a choking risk.
Add a twist to your menu by renaming basic foods to fit your party theme. Mac 'n' cheese becomes gold treasure at a pirate party. Goldfish crackers become fish food for an ocean theme. Create entertaining "food name" signs to put next to the food.
Plan for Decorations
A few well-placed decorations can transform your living room to fit your theme. Party stores sell decorations on almost every theme, which helps if you're looking for a quick decorating solution. Balloons and streamers in coordinating colors always work. Hang strings of green balloons from the ceiling as seaweed for an ocean party, or fill your space with black and white balloons for a soccer party.
Shop Early
Make a detailed list of everything you need, from cooking ingredients and plastic serveware to decorations and extra toilet paper. Shop for supplies at least a week before the party, and buy the food about three days before the party.
Make a To-Do List
Forgetting is easy when you're busy planning. Write a party prep to-do list. It will help you stay on schedule, and you'll feel like a party pro with the completion of each task. Things to include:
Clean the house.

Rearrange furniture to accommodate guests.
Confirm hired entertainment and rentals.
Make favor bags.
Pick up the cake from the bakery, or bake one yourself.
Make the party food.

Charge your camera.
Decorate the space.
Arrange food in the serving area.
Ask other adults to help.
When the Plan is Foiled
You have a vision of the perfect party in your head. You've planned and prepped for weeks. Then the bakery loses your cake order, your dog shreds the decorations and the birthday child chooses party day to stage a rebellion. How do you handle birthday party disasters?
First, remember they're not really disasters. The kids probably won't even notice. Even if they do, they're still going to have a great time.
Have a contingency plan. If you're planning an outdoor party, have a backup indoor location ready in case of rain. Have your first-aid kit within reach in case a rambunctious guest takes a tumble. Being over-prepared is better than having to scramble when something happens. And if something goes awry, just go with it. Burned party food? Order pizzas. Botched cake order? Run out for cupcakes from the grocery store.
Just let the party happen.
References
Writer Bio
Shelley Frost writes professionally on a full-time basis, specializing in lifestyle, family, parenting and relationship topics. She holds an education degree and has extensive experience working with kids and parents.