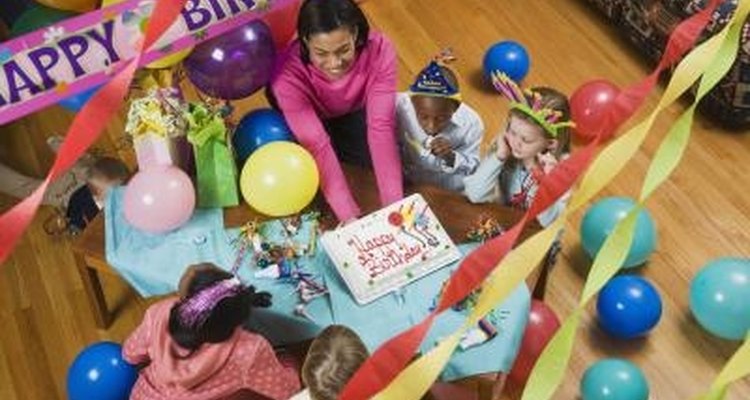 Jupiterimages/Comstock/Getty Images
Birthday parties for 2-year-olds are some of the easiest and most fun because 2-year-olds are very easy to please. Structured play isn't a good idea for them since their favorite words are "mine" and "no"; all you really need to do is provide a safe, wholesome place where they can run and play while you supervise and intervene as needed.
Your Backyard
Have the party in the backyard if your child's birthday falls in the summer months. Two-year-olds love free, unorganized play, so your yard is a great place to set up a small pool with water toys, a sandbox or a swing set. Backyard parties are even better if you have shade trees and lots of room for 2-year-olds to run and play.
Chuck E. Cheese
Go to Chuck E. Cheese's for your 2-year-old's party. There are games, rides and activities for young children, and plenty of pizza and birthday cake. The folks at Chuck E. Cheese will plan the party while you relax. Join their email club and get free tokens for your child's party.
Play Centers
Find indoor play centers in your town that allow children's birthday parties. These places usually have large rooms that can accommodate tables and any play equipment. All kids are closely supervised in play centers, so it's a safe environment for your 2-year-old's party. Some play centers have jump houses and games and will arrange your party for a fee.
Your Church
Ask your church if it allows birthday parties; it might be one of your cheaper options. Most churches have rooms set aside for family activities and even kitchens for you to prepare the party food. If you attend a church with a playground and a party room, then all you'll have to do is schedule the party, invite the guests and get ready to enjoy the fun.
References
Writer Bio
Catherine Lugo has been a freelance writer since 1990 and has been published in her local paper, "County Line," "Poetry Gems 2000" and online at Storiesthatlift.com. Lugo earned her Bachelor of Arts in literature from the University of Texas, Dallas.
Photo Credits
Jupiterimages/Comstock/Getty Images