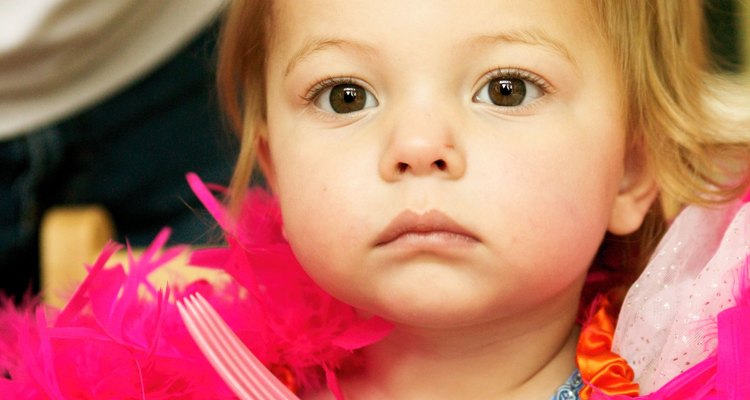 Jupiterimages/Photos.com/Getty Images
Does the thought of entertaining 24 kids for your 2-year-old's birthday sound like -- more stress than fun? Even if you're planning a smaller party -- say, six to 12 party-goers, have the party away from your home -- somewhere kids can find plenty of entertainment. There are a number of fun birthday party locations in New Orleans.
Audubon Zoo
Lions and tigers and bears, oh my! Turn your daughter and her friends loose at the Audubon Zoo (auduboninstitute.org/visit/zoo), with supervision, of course, to explore dozens of different animals. Parties range from $425 to $550 and cover zoo admission, food, drink and utensils. You also get a private party room and unlimited rides on the carousel and swamp train. There are also party options at the "Cool Zoo," (auduboninstitute.org/cool-zoo)a splash park at the zoo. Audubon members receive a $50 discount.
Audubon Butterfly Garden and Insectarium
If your son and his friends are more into creepy, crawly things, plan a birthday party at the Audubon Butterfly Garden and Insectarium (auduboninstitute.org/visit/insectarium#ref=topnav). Dead and live bugs are on display; you can also visit a butterfly garden and go to a "Bug Appetit" Café, where kids can sample chocolate "chirp" cookies or cinnamon and sugar waxworms. For $425 to $550, you get a room for two hours, admission into the insectarium, a live bug encounter, crown for your son, two pizzas, drinks and utensils. Members receive a $50 discount.
Louisiana Children's Museum
If you want to encourage learning through fun exhibits, plan the party at the Louisiana Children's Museum (lcm.org/) where parties range from $195 to $630. That price covers the room, admission, invitations, a favor, a gift for your daughter and staff assistance. The higher priced packages also include food and drink, as well as balloons. Only museum members can hold parties. An annual membership for a family of five is about $65.
The Monkey Room
Your birthday girl and her friends can monkey around at The Monkey Room (monkeyroom.net/), an indoor playground for all ages. A weekend party costs $150 plus $5 per child. A weekday party is $125 plus $5 per child. That covers a party room with a private inflatable as well as admission to the rest of the play area, staff assistance, drinks and utensils and personalized cards or stickers to send out with your birthday invitations.
The Creole Creamery
Treat your birthday boy and his friends to a personal sundae party at The Creole Creamery (creolecreamery.com/). For $250, up to 20 friends get to choose one of the shop's ice-cream flavors and then make their own sundae. For $300, the group can make their own sundaes and watch an ice cream making demonstration by the chef.
Storyland
City Park offers plenty of spots for a birthday party, but the perfect one for your 2-year-old daughter might be Storyland (neworleanscitypark.com/storyland.html). The fairytale playground features 25 different exhibits. $175 covers two tables at one of the themed exhibits. For $75 more, you get unlimited wristbands for the nearby amusement park.
BooKoo Bounce
Let your son and his friends bounce out some energy at BooKoo Bounce (bookoobounce.com/), an inflatable playground. A weekend party costs between $295 and $345. A weekday party runs from $275 to $295. The prices cover 80 minutes of private play time in two different areas plus another 40 minutes in a private room with pizza, cake and ice cream. A gift for your son and invitations are also provided.
References
Writer Bio
Tamara Runzel has been writing parenting, family and relationship articles since 2008. Runzel started in television news, followed by education before deciding to be a stay at home mom. She is now a mom of three and home schools her two oldest children. Runzel holds a Bachelor of Arts in communication from University of the Pacific.
Photo Credits
Jupiterimages/Photos.com/Getty Images