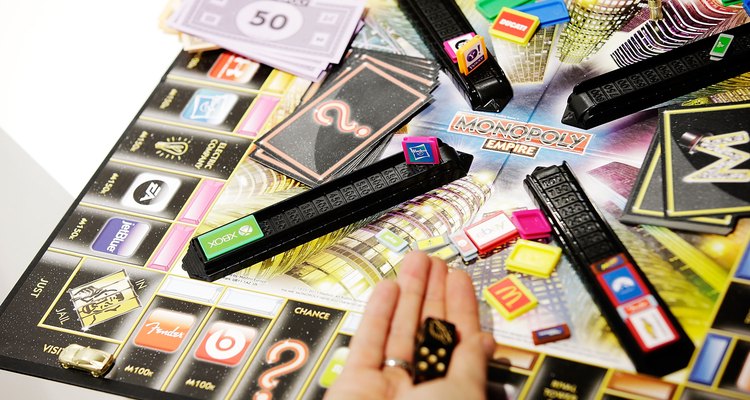 Matthew Lloyd/Getty Images News/Getty Images
When Charles B. Darrow patented and distributed his game about capitalistic business Dec. 31, 1935, he probably had no idea that Monopoly would become one of the most well-known and well-loved board games in pop culture, eventually being translated into 37 languages, with more than 200 licensed versions of the game. The popularity of the game and its iconic board and tokens make it the perfect theme for a birthday or games night party, lending itself easily to decorations and foods.
Invitations and Favors
For a simple invitation, find an old copy of the game at a garage sale or resale shop and turn the property cards into party invites. Print the date and time details and glue them onto the cards. For a more personal invitation, create a mini game board designed as a map to the party venue. Send guests home with coasters made from game cards, dollar sign-shaped chocolates, gold-wrapped candy coins, police whistles, "diamond" rings, a fake mustache and glow sticks, all contained in a plastic top hat. Make the coasters by cutting and gluing cork sheets to the back of property cards that you have covered with clear contact paper. Bind the edges with colorful duct tape. You can also turn your game cards into bookmarks by punching a hole near the top and tying ribbon through the hole. Finally, mini travel versions of the game make entertaining favors.
Room Decorations
Add an enlarged border from the game board to tablecloths and add large figurines of the game tokens to your centerpieces. Decoupage game money to vases or pots to hold your floral arrangements, and scatter votive holders disguised as dice along the center of the table or around the food on the serving table. Suspend some top hats from the ceiling or tie fuzzy dice to balloons and let them float around the room. Set out light bulbs to represent the electric company, break out the toy trains and put a "Water Works" sign on the bathroom door. Finish off the look with footstool-sized dice and stuffed money bags.
Food and Drink
In addition to game night foods, such as pretzels, popcorn and chips, the Monopoly game gives you the chance to share foods from across the country and the world when you serve dishes associated with the areas represented on the board. For example, serve hummus and pita chips for Mediterranean Avenue, Vermont cheddar cubes or maple candy, Kentucky fried chicken, Virginia ham biscuits, Chicago deep-dish pizzas or New York bagels, deli sandwiches or cheesecake. Celebrate the Boardwalk with hot dogs, funnel cakes and taffy or take your guests to Park Place with chocolate truffles decorated with silver dragees. Other choices include Philadelphia cheesesteak sandwiches and soft pretzels, along with shoo-fly pie, Oriental Avenue eggrolls and sweet-and-sour chicken, Memphis-style barbecue or Illinois horseshoe sandwiches.
Games and Entertainment
Offer various versions of Monopoly for your guests to enjoy, but you can add a few other diversions, as well. Invite your guests to come in a costume related to the game and have a costume contest. Set up a money toss game at which guests try to toss play money bundles, made by gluing game currency to each side of a piece of cardboard and adding a rubber band, into a top hat. For a little bit of craziness, hang a dice-shaped pinata from a tree branch and let the guests scramble for candy or other prizes when it breaks.
References
Writer Bio
Pamela Martin has been writing since 1979. She has written newsletter articles and curricula-related materials. She also writes about teaching and crafts. Martin was an American Society of Newspaper Editors High School Journalism Fellow. She holds a Bachelor of Arts in Teaching in elementary education from Sam Houston State University and a Master of Arts in curriculum/instruction from the University of Missouri.
Photo Credits
Matthew Lloyd/Getty Images News/Getty Images