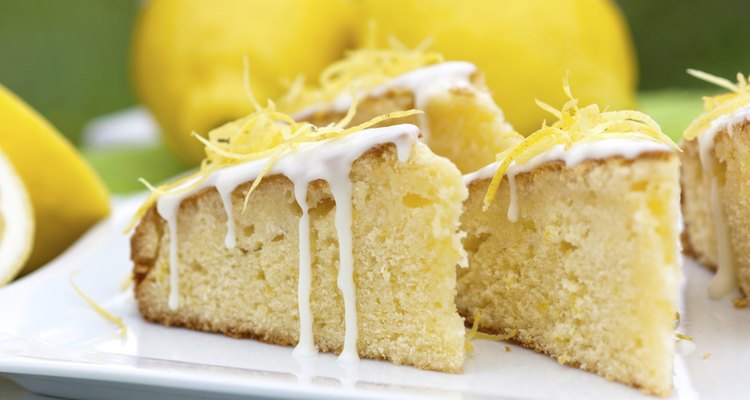 cook-and-style/iStock/Getty Images
Homemade cake mix is a great alternative to prepackaged, store-bought cake mixes, which often contain preservatives and other additives. Taking the time to measure out and mix your dry cake ingredients before you bake can save you time and energy. Prepare a basic yellow cake mix ahead of time and flavor it with lemon juice and lemon zest right before baking for a quick lemon cake recipe. Dress up lemon cake with a lemon curd filling or a lemony buttercream icing, or simply serve it on its own with a dollop of whipped cream.
Basic Yellow Cake Mix
Sift 2 3/4 cups of cake flour into a mixing bowl.
Add 1 3/4 cups of sifted superfine baker's sugar. If you cannot find superfine sugar, run regular sugar through a blender or food processor until the sugar becomes fine and powdery.
Measure and sift 2 tsp. of baking powder and 3/4 tsp. of salt into the mixing bowl.
Whisk together the flour, sugar, baking powder and salt.
Package into a resealable plastic bag, mason jar or another airtight container. Store in the freezer for up to 3 months.
References
Writer Bio
With a master's degree in art history from the University of Missouri-Columbia, Michelle Powell-Smith has been writing professionally for more than a decade. An avid knitter and mother of four, she has written extensively on a wide variety of subjects, including education, test preparation, parenting, crafts and fashion.
Photo Credits
cook-and-style/iStock/Getty Images