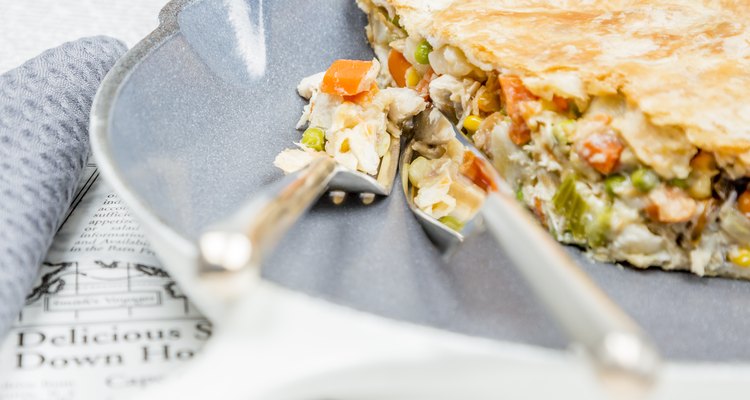 Gargolas/iStock/GettyImages
A Pot Pie in Every Freezer
Hearty pot pies prepared and frozen can be future timesavers for busy moms. While you can freeze either baked or unbaked chicken pot pies, the unbaked dish promises more cooking success. A frozen baked crust turns soggy once you bake the pie because ice crystals leave moisture in the crust. But bake a pot pie that was unbaked when frozen and the crust begins to bake before it has a chance to thaw and become soggy.
This recipe calls for an unbaked pot pie. Use your favorite recipe for one large pot pie or for smaller, individual pot pies. This freezing method works for either size.
Total Time: 8 minutes | Prep Time: 8 minutes | Serves: N/A
1 chicken pot pie, unbaked

Plastic wrap, freezer-quality
Aluminum foil
Using heavyweight, freezer-grade plastic, wrap the entire pie, including the top and the bottom of the pot or pie pan. You don't need to let the pie filling cool before wrapping.

Using aluminum foil, wrap the entire pot pie again from top to bottom.
Place the wrapped pot pie in the freezer, allowing at least 3 inches on all sides to speed freezing.
References
Writer Bio
Susan Lundman began writing about her love of cooking, ingredient choices, menu planning and healthy eating after working for 20 years on children's issues at a nonprofit organization. She has written about food online professionally for ten years on numerous websites, and has provided family and friends with homemade recipes and stories about culinary adventures. Lundman received her M.A. from Stanford University.