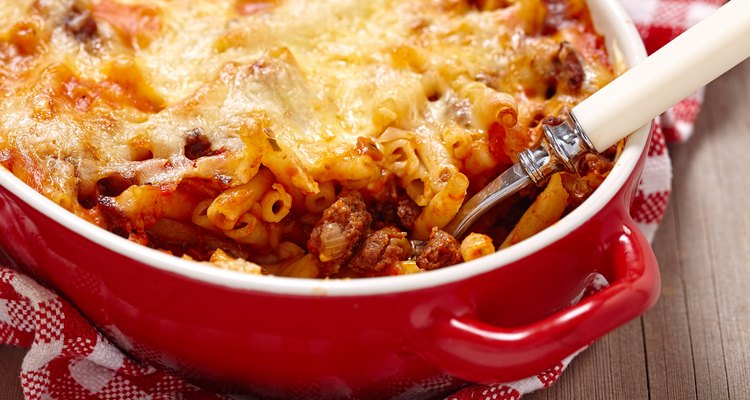 Azurita/iStock/GettyImages
A Simple Recipe for the Classic Comfort Food
Baked ziti offers the savory cheesy goodness of lasagna without the fussy, time consuming steps of layering and untangling big sticky noodles. It's a classic comfort food that comes together in minutes if you use pre-made sauce, and not much longer if you make your sauce from scratch. It holds up well as a make-ahead dish that you can bake just before serving. Your whole family will enjoy it – they may even want to help prepare it since it yields so much satisfaction with so little effort. The easiest baked ziti uses only pasta, sauce, cheese and maybe some meat, but you can amp it up all you want with a variety of meats and cheeses, and even some lightly sauteed vegetables. This is a very forgiving recipe that works well with extra meat or cheese, or less if you're counting calories. Just make sure to use enough sauce to generously coat the pasta.
Total time: 45 minutes | Prep time: 20 minutes | Servings: 4
1 tablespoon olive oil

1/2 pound ground beef
1 medium onion, diced
4 cloves garlic, minced
1 teaspoon kosher salt, and more to salt the pasta water
3 cups canned crushed tomatoes
1 teaspoon dried basil
1 pound ziti pasta (or substitute any tubular pasta you have on hand such as penne or rigatoni)
2 cups ricotta cheese
2 cups mozzarella cheese
1/2 cup Parmesan cheese
Heat the oven to 375F.

In a medium saucepan, heat the olive oil and add the meat. Cook on medium heat, stirring often, until the meat is lightly browned, about 10 minutes, and then add the onion, garlic and salt. Cook until the onion is soft and translucent, about 5 minutes longer, add the crushed tomatoes and basil, and cook for 10 minutes longer.
Meanwhile, in a medium stockpot, boil salted water and cook the pasta until al dente, about 8 to 10 minutes. Drain well.
While the pasta and the sauce are cooking, mix the ricotta cheese, 1 cup mozzarella and the Parmesan cheese.
In a large bowl, mix the pasta, sauce and cheese mixture. Transfer to an 8-by-8-inch casserole pan and top with the remaining mozzarella.
Bake for 10 to 15 minutes, until the mozzarella on top melts and just starts to brown.
References
Writer Bio
Devra Gartenstein is a self-taught professional cook who has authored two cookbooks: "The Accidental Vegan", and "Local Bounty: Seasonal Vegan Recipes". She founded Patty Pan Cooperative, Seattle's oldest farmers market concession, and teaches regular cooking classes.