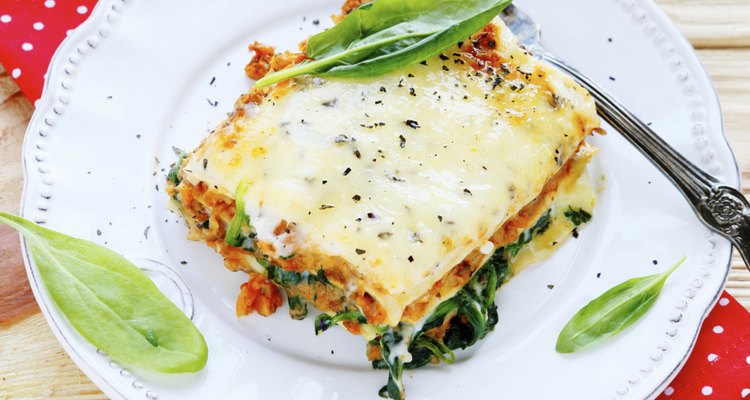 Olha_Afanasieva/iStock/Getty Images
Traditional lasagna made with lasagna noodles with oodles of cheese and meat sauce has its place, but sometimes changing things up and serving a lighter meal is more welcome. Lasagna is a versatile meal that can be adapted to meet your dietary needs. That means that sometimes sour cream -- especially the low-fat or fat-free variety -- is a better choice for lasagna than thick layers of cheese.
Vegetable Lasagnas
Vegetable lasagna provides the goodness of fresh vegetables and lends itself well to the use of sour cream. Whether you choose to add thinly sliced layers of zucchini in place of the noodles or stick with traditional pasta noodles is up to you, as long as you add plenty of sauteed vegetables, such as mushrooms, zucchini, summer squash and carrots. Substitute sour cream for part of the cheese filling to give your vegetable lasagna a creamy texture and kick up the flavor. Combined with low-fat Alfredo sauce, sour cream enhances the natural flavors of vegetables and contributes of a lighter version of traditional lasagna.
Mexican Lasagna
Mexican lasagna combines the familiar with the novel to create a tasty meal that's usually a hit with children and teens. Use flour or corn tortillas in place of the lasagna noodles and layer with spicy, lean meats and vegetables, add a sprinkle of low-fat cheese and a thin layer of low-fat sour cream. Because the sour cream is smooth and creamy a small amount goes a long way and can be substituted for some of the cheese. With a low-fat or fat-free version, sour cream adds robust flavor without compromising the health benefits of wholesome foods.
Traditional Lasagna
Traditional lasagna recipes made with pasta noodles and tomato sauce typically call for copious amounts of shredded or blended cheeses to create the creamy layers between the noodles and meat. You can substitute sour cream for part of the cheese to create creaminess and add tangy flavor. Try mixing low-fat sour cream with the mozzarella to make a spreadable layer of cheese that turns smooth and creamy in the oven.
Considerations
Regular sour cream is high in fat, but there are many low-fat or fat-free versions to choose from. Because sour cream is smooth and creamy and blends with the other ingredients in lasagna, using a fat-free version has minimal effect on flavor in recipes like lasagna. You can reduce the overall fat in the recipe by omitting some of the cheese and substituting a smaller amount of sour cream. For example, using 1/2 cup of fat-free sour cream in place of 1 cup of shredded mozzarella cuts the fat content of your lasagna by 25 grams.
References
Resources
Writer Bio
Nannette Richford is an avid gardener, teacher and nature enthusiast with more than four years' experience in online writing. Richford holds a Bachelor of Science in secondary education from the University of Maine Orono and certifications in teaching 7-12 English, K-8 General Elementary and Birth to age 5.
Photo Credits
Olha_Afanasieva/iStock/Getty Images