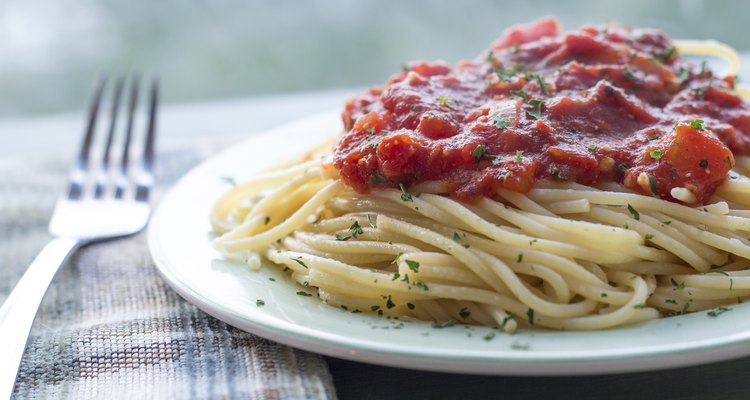 EzumeImages/iStock/GettyImages
A Quick and Simple Red Sauce With a Bold, Robust Flavor
The secret to a rich and savory red spaghetti sauce, also called pomodoro, is to let it bubble gently on the back burner for hours. That's not always an option on busy nights, but a full schedule plus empty bellies does not have to add up to sauce from a jar. Gently sauteing garlic, olive oil and tomato paste releases the signature savory flavors of a classically slow-cooked spaghetti sauce. Adding San Marzano tomatoes ups the freshness factor, giving you a robust sauce in a fraction of the time.
Total Time: 30 minutes | Prep Time: 10 minutes | Serves: 4 to 6
2 tablespoons extra virgin olive oil
2 to 4 garlic cloves, peeled and smashed
kosher salt
cracked black pepper
1 tablespoon Italian seasoning
3 tablespoons tomato paste
1 large or 2 medium cans San Marzano tomatoes
2 to 4 tablespoons dry cooking sherry (optional)
1 to 2 tablespoons butter (optional)
Line an unheated pot or heavy skillet with a thin film of olive oil. Canola oil or vegetable oil will also work, but extra virgin olive oil will give your sauce the richest flavor.

Add the crushed garlic cloves to the olive oil and turn the heat to low. Letting the oil and garlic slowly heat together helps bring out the flavors in both.
Season the olive oil and garlic with kosher salt, cracked black pepper and Italian seasoning. Stir and cook the garlic, oil and seasonings until the scent intensifies and the garlic softens, about 3 minutes. Do not let the garlic brown, because this can give your sauce a bitter taste.
Stir in the tomato paste. This can take 2 to 3 minutes because the thick texture of the tomato paste keeps it from melting easily. Stir it frequently so that it doesn't stick, but make sure it heats thoroughly to bring out its flavor. It's okay if it browns just slightly, as long as the garlic doesn't scorch.
Add the San Marzano tomatoes. Crush them with clean hands as you add them, or break them up with a spoon once they are in the pot or saucepan.
Turn the heat to medium high and cook the sauce until it begins to bubble. Stir in the dry cooking sherry, if desired. This will tone down the brightness of the San Marzano tomatoes a bit. If you prefer not to cook with sherry, add butter, instead. For a fresher-tasting sauce, leave it is.
Lower the heat and let the sauce simmer gently for 20 minutes. Blend the sauce with an immersion stick blender or run it through your regular blender or food processor if you like a smooth sauce or have kids with food texture issues.
References
Writer Bio
Brynne Chandler raised three children alone while travelling, remodeling old homes, taking classes at the Unioversity of California Northridge and enjoying a successful career writing TV Animation. Her passions include cooking, tinkering, decorating and muscle cars. Brynne has been writing fun and informative non-fiction articles for almost a decade. She is hard at work on her first cookbook, which combines healthy eating with science-based natural remedies.