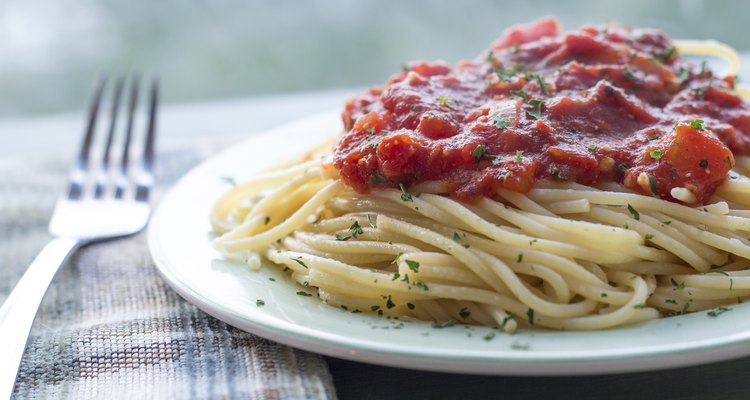 EzumeImages/iStock/GettyImages
Classic Marinara: Spaghetti Sauce the Italian Way
The tangy, rich taste of well-made spaghetti sauce conjures images of vine-ripened Roma tomatoes, fragrant sprigs of basil and a quaint Italian grandmother stirring a pot of bubbling red sauce while wearing a coy expression that says, "I have a secret ingredient and I'll never tell." Reality is much different. There's no such thing as a secret ingredient, and you don't have to spend hours on marinara sauce. You just need quality ingredients and about 30 minutes, perfect for busy moms, and busy grandmothers, on the go.
Total Time: 25 minutes | Prep Time: 25 minutes | Serves: 4 to 6
1/4 cup olive oil
6 or 7 garlic cloves, thinly sliced

Pinch of red pepper flakes (optional)

1 (28 ounce) can whole plum tomatoes

Kosher salt, to taste

5 or 6 basil leaves
Heat the olive oil in a deep skillet over medium heat. Saute the garlic until fragrant, about 1 minute, and add the tomatoes.
Crush the tomatoes using a fork or potato masher. Fill the tomatoes' can with water, and add it to the pan. Stir in the pepper flakes, if desired, and season the sauce to taste with kosher salt.

Simmer the sauce for 15 minutes. Add the basil leaves, and cook the sauce another 2 or 3 minutes. Serve immediately.

References
Writer Bio
A.J. Andrews' work has appeared in Food and Wine, Fricote and "BBC Good Food." He lives in Europe where he bakes with wild yeast, milks goats for cheese and prepares for the Court of Master Sommeliers level II exam. Andrews received formal training at Le Cordon Bleu.