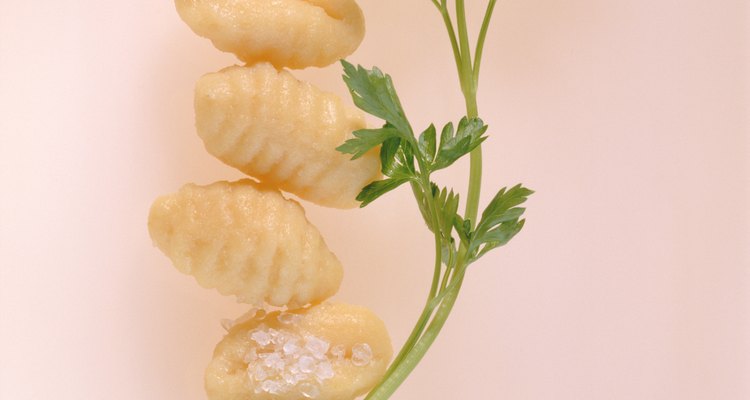 John Foxx/Stockbyte/Getty Images
If you're looking for a fresh take on boring old pastas, give gnocchi a nod. Gnocchi is a small, dumpling-like pasta common throughout Italy that can be made with semolina flour, or more unusual ingredients including potatoes and spinach. While gnocchi is traditionally boiled and served with simple toppings such as olive oil, you can fry them for a twist on a traditional dish.
Prepare Your Pot
Gnocchi are heavier and denser than most types of pasta and require a large cooking pot filled with plenty of boiling water. If you toss the gnocchi in a pan without plenty of room to boil and move, they will turn into heavy, gummy balls of dough. Add a handful of salt to a large pot of boiling water, and add half of the gnocchi to the water. Let the gnocchi cook for a couple of minutes until they float to the surface of the water. Scoop them into a wire strainer and repeat with the remaining gnocchi.
Drain and Dry
Leave the gnocchi in the wire strainer until all of the liquid drains off. It may be tempting to throw them into a hot frying pan immediately, but the water on the outside of the pasta will not allow the gnocchi to develop a nice, golden crust. Shake the strainer gently to toss the gnocchi around and get all the liquid out of the small recesses in the pasta.
Into the Fire
Add a drizzle of olive oil and a small spoonful of butter to a large frying pan, and warm over medium heat until the butter is completely melted. Dump the gnocchi into the pan, and spread them around with the back of a spoon to create an even layer over the pan. Let the gnocchi fry for a couple of minutes, or until they turn golden brown. Turn them gently with a spatula, and cook on the other side until brown and crispy.
Toppings
Boiled gnocchi are traditionally served with marinara or pesto sauce, but fried gnocchi may be served with simple toppings to highlight their rich, nutty flavor. Drizzle a small amount of good-quality olive oil over freshly fried gnocchi, and toss in a bit of grated Parmesan cheese and black pepper. Or, brown a small onion and a couple of garlic cloves in a little butter and pour over the hot gnocchi.
References
Writer Bio
Louise Lawson has been a published author and editor for more than 10 years. Lawson specializes in pet and food-related articles, utilizing her 15 years as a sous chef and as a dog breeder, handler and trainer to produce pieces for online and print publications.
Photo Credits
John Foxx/Stockbyte/Getty Images