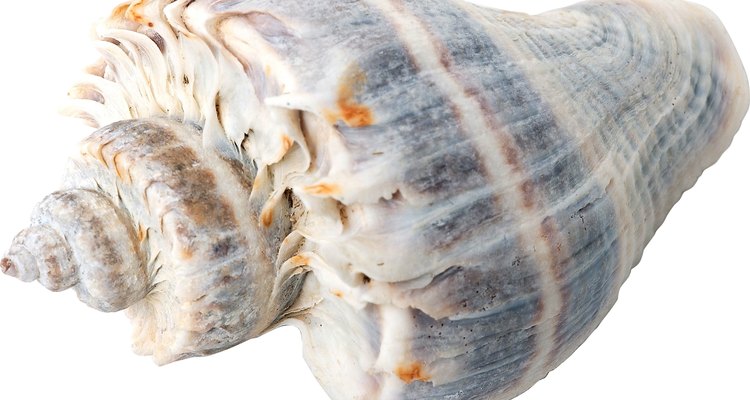 Zedcor Wholly Owned/PhotoObjects.net/Getty Images
Whelks are an aquatic snail similar to the periwinkles you can see on rocks up and down the East Coast at low tide. Whelks are larger and meatier, and they're a common pub food throughout Great Britain. They are naturally chewy, but have a rich flavor. Whelks are often pickled in vinegar and spices, or tenderized with a mallet for use in chowder or other seafood dishes. In most cases, they are first steamed to cook the whelk meat.
Fill a large bowl with your whelks and rinse them in several changes of water.
Run water into a steamer up to the fill line, or put a steamer insert into a pot with a tight-fitting lid and fill it until water touches the bottom of the steamer insert.
Bring the pot to a boil, or turn on the steamer. Once a plume of steam begins to escape, remove the lid and pour in the rinsed whelks. Cover the pot again, and begin timing once steam visible again.
Steam the whelks for 10 to 15 minutes, or 20 minutes if they are large.
Serve the hot whelks immediately with clarified butter for dipping, or sprinkle them with salt and malt vinegar. Serve with a "winkle pick," a utensil designed for prying snails from their shells, or a bamboo skewer.
References
Tips
Overcooked whelks become extremely rubbery. If you have the misfortune to overcook yours, tenderize them with a mallet and chop them finely for use in a chowder.
Writer Bio
Fred Decker is a trained chef and prolific freelance writer. In previous careers, he sold insurance and mutual funds, and was a longtime retailer. He was educated at Memorial University of Newfoundland and the Northern Alberta Institute of Technology. His articles have appeared on numerous home and garden sites including GoneOutdoors, TheNest and eHow.
Photo Credits
Zedcor Wholly Owned/PhotoObjects.net/Getty Images