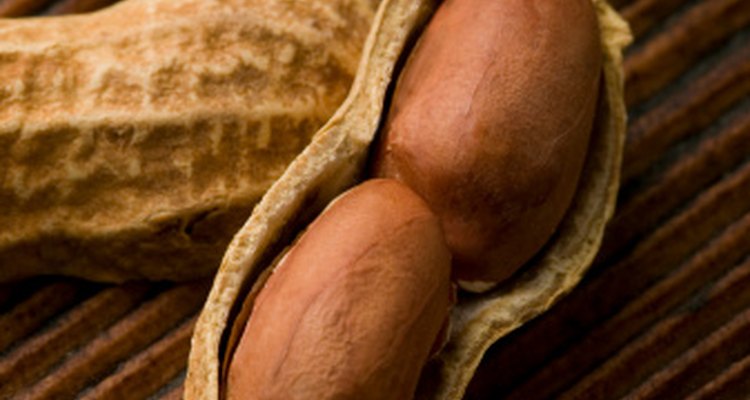 C Squared Studios/Photodisc/Getty Images
Peanuts are part of the legume family (which includes peas, lentils and chickpeas) and are an excellent source of monounsaturated fats, antioxidants, niacin, protein, copper and other nutrients. With a little cooking experience, fried peanuts are simple to prepare and useful as an appetizer or a snack.
Remove the raw peanuts from their pods.
Pour the peanut oil into the deep saucepan, about 1 inch deep, and warm over medium heat. Allow the oil to heat-up, approximately 3 minutes.
Add the peanuts and cook until golden brown, approximately 5 minutes. Stir occasionally with a slotted spoon to keep the peanuts from burning.
Remove the peanuts from the saucepan, using the slotted spoon, and place them on a dry paper towel to absorb some of the excess oil.
Season the peanuts with salt and any other spices you desire such as cayenne pepper, paprika or garlic powder.
References
Tips
You can substitute the deep saucepan with a wok or pan.
If the oil is splashing too much, turn the heat down or cover the saucepan with a lid.
Replace peanut oil with vegetable oil or any other cooking oil. However, keep in mind that some types of oil burn more quickly than others.
Warnings
Do not pour used oil down the drain (sink, toilet, etc.). Once the oil cools down, you can save it for future frying or dispose of it outside.
Writer Bio
Cedric Kuo has been a writer since 1999. His published work appears in the science journal "Aquaculture Nutrition," In addition to freelance writing, he has worked in clinical research and as a high school science teacher. He attended Hawai'i Pacific University and earned a Bachelor of Science in biochemistry.
Photo Credits
C Squared Studios/Photodisc/Getty Images