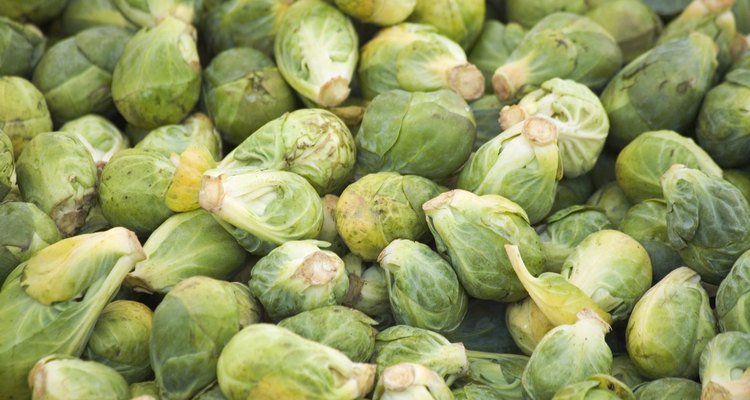 Jupiterimages/Creatas/Getty Images
Brussels sprouts are a much maligned vegetable. This bulbous, winter cruciferous is often thought to have a bitter taste and create a stink when cooked. However, Brussels sprouts can be absolutely delicious -- and not smelly -- when you prepare them correctly. They should never be boiled like your average vegetable. Brussels sprouts are best when pan-seared and roasted to perfection with your favorite seasonings or flavorings, whether savory or sweet. In particular, the sweetness of Brussela sprouts roasted with brown sugar and maple syrup are the perfect complement to their slight bitterness.
Step 1
Preheat your oven to 375 degrees Fahrenheit. Prepare the Brussels sprouts by discarding any outer yellow leaves. Slice off the stems and cut each sprout in half, lengthwise, using a sharp chef's knife on a clean cutting board.
Step 2
Combine butter and brown sugar in a saucepan over the stove on medium-high heat, stirring until the brown sugar has melted. For 2 pounds of Brussels sprouts, you'll need one stick of butter and 2 tablespoons of brown sugar.
Step 3
Stir in 1/4 cup of maple syrup, then remove from heat. Use 100 percent pure maple syrup, whether grade A or B. Grade A maple syrup has a lighter maple flavor with a thinner consistency, while Grade B is a much darker, thicker maple syrup with a richer flavor.
Step 4
Heat a drizzle of olive oil in a large, oven-proof skillet over medium heat and add the Brussels sprouts. Let them saute until they are slightly softened.
Step 5
Pour the brown sugar and maple syrup mixture all over the Brussels sprouts, and stir to make sure all sides of the sprouts get covered. Cook them in the pan until they just start to caramelize.
Step 6
Place the Brussels sprouts in then oven to cook for 20 to 30 minutes, until the sprouts are nicely browned and caramelized.
References
Resources
Tips
Cook and crumble up bacon to sprinkle onto the Brussels sprouts right after they come out of the oven, as an optional garnish.
You can roast the Brussels sprouts on a baking tray or baking pan lined with foil or parchment paper, instead of an oven-proof skillet to make clean-up easier.
Writer Bio
Based in Los Angeles, Zora Hughes has been writing travel, parenting, cooking and relationship articles since 2010. Her work includes writing city profiles for Groupon. She also writes screenplays and won the S. Randolph Playwriting Award in 2004. She holds a Bachelor of Arts in television writing/producing and a Master of Arts Management in entertainment media management, both from Columbia College.
Photo Credits
Jupiterimages/Creatas/Getty Images