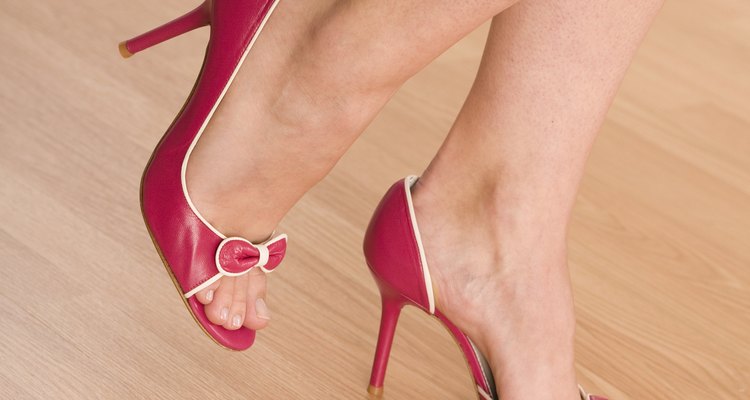 Comstock Images/Stockbyte/Getty Images
Don't let street filth spoil your foot fashion -- even if your heels only see the light of day between your front door and your car, stain accumulation is inevitable. High heels come in every flavor of material, so you can't just hose them down like you might your standard pair of athletic kicks. At the end of the day, keep your high-heeled faves looking clean with caution, no matter what grimy curve balls come your way.
Step 1
Wipe down the inside of any heels with a dry tissue to remove dust, skin oils and dirt.
Step 2
Brush dirt and dried mud from leather or suede heels with short circular strokes, using a leather or suede brush.
Step 3
Moisten a cotton ball in clear leather shoe wax and rub it into stubborn stains on leather heels. Wipe away the excess and buff the leather with a clean cotton ball.
Step 4
Dampen a clean towel with white vinegar and blot away stubborn stains on suede heels. Let the vinegar dry, then brush the shoe with a suede brush to remove the mark.
Step 5
Wipe down dirty patent-leather shoes with a damp towel, then buff them with a dry towel to remove stains. If the shoe loses its shine, coat the edge of a towel with patent-leather conditioner and work it over the surface of the shoe. Buff with a dry towel.
Step 6
Wipe dust and dirt from satin shoes with a dry tissue. Blot stains with a damp towel, then pat dry with another towel. Blot with mild liquid soap if the stains are stubborn.
Step 7
Wipe down plastic or cotton fabric heels with a damp cloth to remove dirt. If necessary, add mild liquid soap to help remove stains.
References
All About Wearing High Heels: For Girls/Women; J.J. Leganeur
Vim & Vinegar; Melodie Moore
Writer Bio
A writer with a Bachelor of Science in English and secondary education, but also an interest in all things beautiful, Melissa J. Bell has handed out beauty and fashion advice since she could talk -- and for the last six years, write for online publications like Daily Glow and SheBudgets.
Photo Credits
Comstock Images/Stockbyte/Getty Images