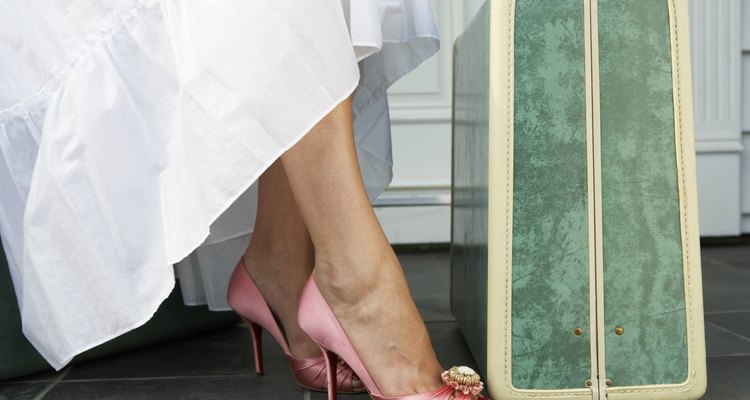 Noel Hendrickson/Photodisc/Getty Images
Christian Dior once said, "The real proof of an elegant woman is what is on her feet." Your heels are more than footwear, they are a statement piece about your character. Your high-heeled shoes may be the latest fashion, but if they're covered in mud, they can make a bad impression. You can keep your leather, satin and suede heels in good repair with regular cleaning by addressing caked-on or accidental mud splashes with quick, decisive action.
Refresh Satin or Leather Heels
Step 1
Cover your cleaning space with newspapers or a plastic trash bag for easy cleanup.
Step 2
Wipe away loose mud from the shoe's surface with a dry cloth or soft-bristle brush.
Step 3
Dampen a cloth with warm water and wipe the shoes to remove stubborn and caked-on mud. Remember to work the cloth between crevices and all the way around the heel. Wipe the sole last to avoid smearing mud.
Step 4
Work up a lather with a fresh damp cloth and a few drops of moisturizing hand soap.
Step 5
Rub the surface of the shoes vigorously with the lather, then wipe them clean with a dry towel. Use blotting motions to remove soapy water from satin heels.
Step 6
Polish leather heels with a polishing cloth and leather polish. Blot and dab dry satin heels with a towel or use a blow dryer on its lowest setting.
Suede
Step 1
Wrap the the shoes in a clean, dry towel. Allow the shoes to dry for two to four hours.
Step 2
Brush dried mud from the surface of the shoes with a suede brush using short, gentle strokes. You may also use light, gentle strokes with an emery board to remove dried mud from suede shoes.
Step 3
Brush the shoes with a suede brush to restore the nap of the material.
References
Tips
Have stubbornly stained suede heels cleaned by a professional cleaner or cobbler.
Warnings
Do not dry suede or leather shoes with direct heat. Doing so can damage the material.
Writer Bio
Chance Henson earned a B.A. in English literature and a writing minor from Lamar University. While interning at the "University Press" newspaper and "UP Beat" magazine he received an award for news feature writing from the Texas Intercollegiate Press Association. Henson went on to serve as content editor for "CUSH Magazine," eventually leaving to pursue the development of an online secular humanist educational publication.
Photo Credits
Noel Hendrickson/Photodisc/Getty Images