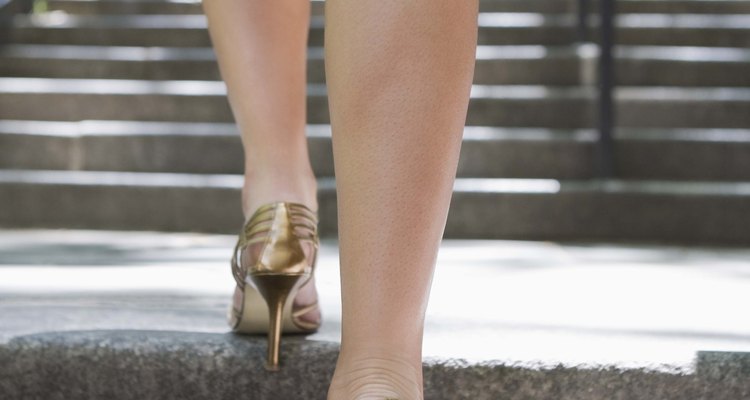 Jupiterimages/Comstock/Getty Images
Even the best pair of shoes will show signs of wear and tear eventually. If the rubber caps on your heels need to be replaced, don't go to a repair shop. Instead, do a quick DIY fix yourself. A simple at-home repair will leave your shoes as good as new.
Find the right size rubber tip for your shoe. Heels come in many different widths, so measure yours with a ruler to match the width of your heel to the width of your replacement tips.
Place your pliers around your old rubber heel tip gripping the tip on either side with the inside grooved section of the pliers.
Twist the pliers as you pull to remove your old shoe tips. This may take a few attempts, so don't get discouraged.
Pop your shoe tip into the hole of your heel -- you can find the hole right in the center of the bottom of your heel.
Carefully, hammer your new shoe tip until it fits snugly.
References
Writer Bio
Pamela Simmons has been writing professionally since 2009. Her articles on fashion, beauty and other topics have appeared on Denim Therapy and other websites. Simmons serves as an editor and public relations manager for CHIC.TV. She holds a Bachelor of Science in international affairs from Georgia Tech and a Master of Business Administration from Mercer University.
Photo Credits
Jupiterimages/Comstock/Getty Images