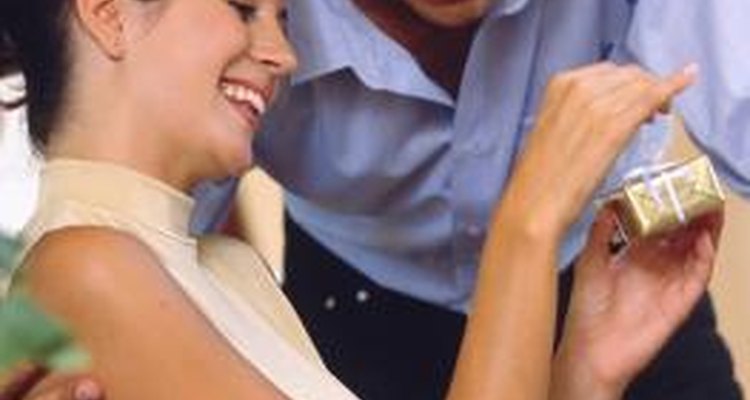 Goodshoot/Goodshoot/Getty Images
To say you have been married for 20 years to the love of your life is almost rare these days and deserves to be celebrated in a major way. Finding the right gift to show your wife how much you appreciate and love her for making it through 20 years with you is not easy. While no gift could ever quantify how much you love your wife, an extra special one, based on both anniversary traditions and her interests could come pretty close.
Traditional Gift Options
If you know your wife is a traditional woman that likes to follow the rules, stick to the official gift symbols for the 20th wedding anniversary. For instance, china is the traditional 20th anniversary gift, so you could get her a new set of fine china that she can proudly set out at dinner parties and other special occasions. Go beyond the traditional tableware and include china serving platters as well. The modern anniversary gift is platinum giving you the perfect excuse to update her outdated gold wedding ring and placing her diamond in a new platinum setting. The official flower of the 20th wedding anniversary is the daylily. Surprise her with a bouquet of the flowers in every room. Another option since the official gemstone is emerald is to give her a classic emerald earring and necklace set.
A Twist on Traditions
For the wife who couldn't care less about traditions or has a great sense of humor, put a quirky spin on the traditional 20th wedding anniversary gift. For example, you could skip the china dinnerware and take your wife to the best restaurant in the nearest Chinatown. The two of you could stroll the Chinatown streets after dinner and check out the vendors or sample one-of-a-kind desserts from the Chinese bakeries. Another idea is to surprise her with an anniversary party with an emerald green theme. Enlist her female friends to help you buy the perfect Emerald green dress for her to wear to the party. All of the tablecloths, table decor and other decorations should have at least some emerald green in them. Use vases of daylilies as centerpieces as a final touch.
20 Things for 20 Years
Surprise your wife with a set of 20 small items for each of the 20 years you have been married. One idea is to scour trinket shops and flea markets for small figurines that could have some sort of meaning for each year of your marriage. You could place them around the house for your wife to find each with a note of a special memory of that year. You could also write a poem stating 20 reasons why you love her and have it framed or create a photo album with a picture of the two of you from each year with a handwritten note about your memory of that year. Send her on a treasure hunt with 20 different clues that will lead her to an anniversary dinner at a restaurant with you and 20 of her closest family and friends.
Whisk Her Away
For the 20th anniversary, break out the rainy day savings and splurge on a once-in-a-lifetime trip to somewhere you wife has always wanted to go whether it's Australia, South Africa or just to another part of the United States she has never visited. Spare no expense and pamper your wife with a stay at an upscale hotel and leave the itinerary up to her. She may exhaust you with everything she tries to cram in, but the time you will have to spend together without thinking about life's worries and the happiness you'll see on her face will be well worth it.
References
Writer Bio
Based in Los Angeles, Zora Hughes has been writing travel, parenting, cooking and relationship articles since 2010. Her work includes writing city profiles for Groupon. She also writes screenplays and won the S. Randolph Playwriting Award in 2004. She holds a Bachelor of Arts in television writing/producing and a Master of Arts Management in entertainment media management, both from Columbia College.
Photo Credits
Goodshoot/Goodshoot/Getty Images