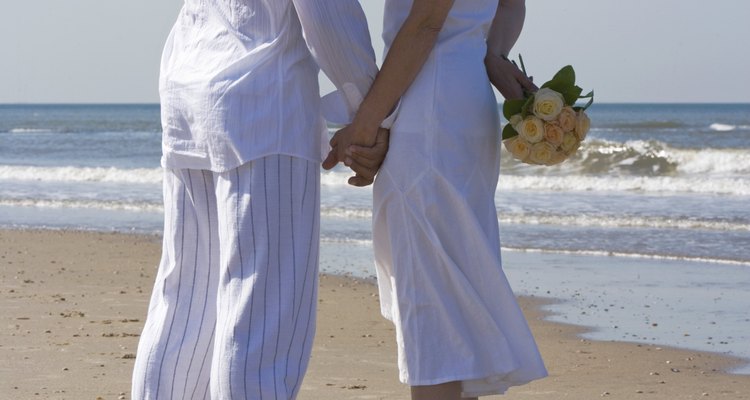 Dynamic Graphics/Creatas/Getty Images
Many couples find that renewing their vows is a meaningful way to celebrate milestone anniversaries. A couple might also have a recommitment ceremony after a trying time, such as a serious illness or following an affair, according to the wedding planning site, The Knot. You can present your spouse a romantic gift that has a tie to your shared experiences to commemorate your recommitment ceremony.
Destination Gifts
Spending time with your spouse on a second or third honeymoon is an ideal way to follow your recommitment ceremony. Return to the site of your first honeymoon or any other location that has some significance to the two of you. Alternatively, visit a location you have always talked about visiting but never had the opportunity to go. If you can't splurge on that favorite fantasy trip, spending a few days away at a bed and breakfast or at home without children can spark new romance for the next stage in your marriage.
Commemorative Jewelry
Rings were a vital part of your first wedding and could make your renewal ceremony special. Trade in his old wedding ring for a new one with small stones that commemorate the birth of each of your children. Alternatively, choose a pocket piece he can carry with a loving engraved message. An attractive, but sturdy watch can remind him that you still have time to make your life together something that blesses you both for years to come.
Worth 1,000 Words
Pictures can remind your husband of the memories you share. Load an electronic photography cube for his office desk with pictures of your best times together. Present him with a memory book that lists your favorite times together and why you think he's worth marrying again. Leave empty pages so you can add new memories in the coming years. Give him a dual frame that holds one picture of the two of you at your first wedding and a second picture of you at your recommitment ceremony.
Symbols of Love
Life is full of symbols and can remind your husband of why you are recommitting. If your ceremony is on your anniversary date, choose a traditional symbol for that anniversary, such as a tin or aluminum figure of a fish on your 10th anniversary if you enjoy fishing together or a crystal book-shaped bookend on your 15th anniversary if he enjoys reading to you. Give him a model of the car he owned when you first began dating or a popcorn machine with special popcorn holders if your favorite date night is taking in a movie.
References
Writer Bio
Rev. Kathryn Rateliff Barr has taught birth, parenting, vaccinations and alternative medicine classes since 1994. She is a pastoral family counselor and has parented birth, step, adopted and foster children. She holds bachelor's degrees in English and history from Centenary College of Louisiana. Studies include midwifery, naturopathy and other alternative therapies.
Photo Credits
Dynamic Graphics/Creatas/Getty Images