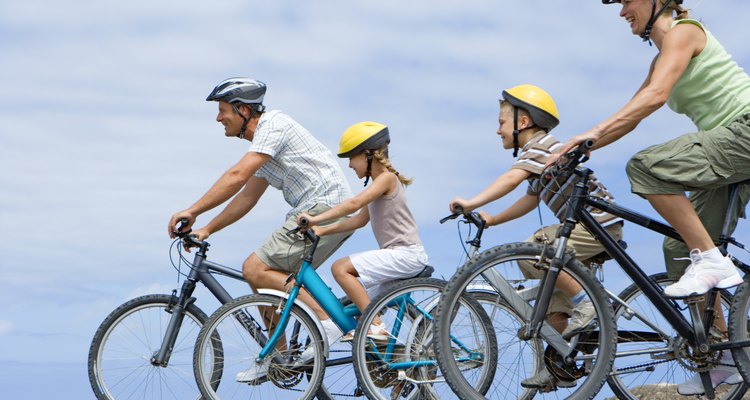 Polka Dot Images/Polka Dot/Getty Images
Second marriages have worse odds for success than first marriages. But when the right time, effort and attention are put into a second marriage, it can be wonderful. When children are involved, a second marriage means cultivating a relationship with the kids as well as your new spouse. Through family activities, structure and communication, a second marriage with children can last a lifetime. Help children feel important and special while also working on your new marriage.
Two Faces of Second Marriage
When entering a second marriage where there are children involved, you have to work on two relationships. You not only have to build a healthy marriage, but also a healthy parent/child relationship, says the article "Stepfamily Problems," published by the American Academy of Child and Adolescent Psychiatry. Date night is great for spending quality time with your partner, and this concept can be extended to parents spending quality alone time with children. Family time together is also important in building the family bond as a whole, like family game night or movie night.
Hold Your Horses
Many second marriages occur quickly after divorce. If a second marriage involves children, it is important to take the time for your new partner to get to know you and your children, retired psychologist Kalman Heller advises in his article "Improving the Odds for Successful Second Marriages." Take time to get to know the personalities of the children involved, see if your partner has any qualities that you cannot live with and find common ground as a potential family unit.
Discuss a Parenting Plan
A second marriage can include the children of one or both partners. It is important that each partner be on the same page with house rules and consequences in regard to parenting, says family medicine clinician James Bray in the article "Making Stepfamilies Work." When spouses show children a united parenting front, it helps the children ease into the transition of the new family. This helps bring the family together and strengthens the bond between all family members.
Make Your Mark
A divorce can mean a child loses certain family traditions. When entering a second marriage, try starting new family traditions, says the article "Becoming a Step-Parent," on the website Kids Health. Children can have fun trying to come up with new traditions for holidays or birthdays. Maybe the family can start collecting for the needy before the holiday season. Or each child can choose an organization for the family to volunteer at. The family can even start playing a team sport together, or organizing an annual family reunion.
References
Writer Bio
Jaime Vargas-Benitez has been a parenting writer since 2010. She has worked in the child wellness field in various roles for over 20 years. Along with the experiences of raising her own kids, she has been privileged enough to participate in the raising of hundreds of other children as well.
Photo Credits
Polka Dot Images/Polka Dot/Getty Images