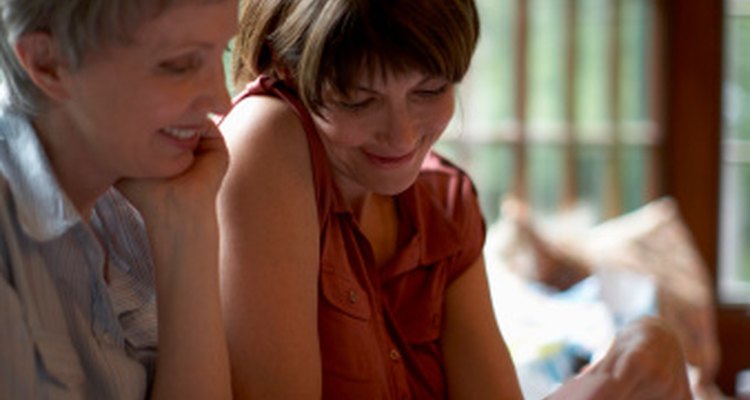 Kim Carson/Photodisc/Getty Images
Create a memory book as a sentimental gift idea for your loved one's birthday, a reunion or other special occasion. Remember a deceased friend or family member with a personalized memory book chronicling his life and present to a living spouse or child as a tribute to the person who passed away. A handmade memory book can be easily created home; fill it with photos, quotes and stories to memorialize the life and lessons learned from someone special.
Purchase a large, sturdy scrapbook to use for the memory book. Engrave the cover of the memory book with the recipient's name or a short, favorite quote for a special touch.
Choose a layout for the memory book depending on what you are trying to accomplish. For example, the book may be to chronicle the life of a deceased recipient or to showcase a favorite vacation, a wedding or the early years of a child.
Contact close friends and family members of the recipient and ask if they would like to contribute to the memory book. Ask them to write a letter containing personal stories and memories of the loved one and to include photos, if possible. Gather information for a wedding memory book by contacting the wedding guests for contributions or chronicle the life of a deceased recipient by including stories and pictures from people he knew throughout his life.
Gather all the photos, letters and information collected and lay them out on a large table to organize. Sort by year, decade or by each individual person who contributed information, depending on what type of memory book it is.
Assemble the memory book by attaching the letters, postcards and photos to each scrapbook page with a glue stick. Arrange the pages in the scrapbook in a chronological order and remove any unused pages. Sign and date the inner front cover of the book and include a small note regarding the purpose of the gift, whether it is for a tribute or just to show appreciation for the recipient.
Decorate the scrapbook pages with decorative embellishments such as ribbons, colored card stock and stickers. Cut card stock with scissors to create small frames and glue them around the photos in the book.
References
Writer Bio
Based in Lake Mary, Fla., Charity Tober writes mainly on finance, career, interior decorating, parenting and weddings. Tober has also self-published two children's picture books. She holds a Bachelor of Arts in business administration from the University of Florida.
Photo Credits
Kim Carson/Photodisc/Getty Images