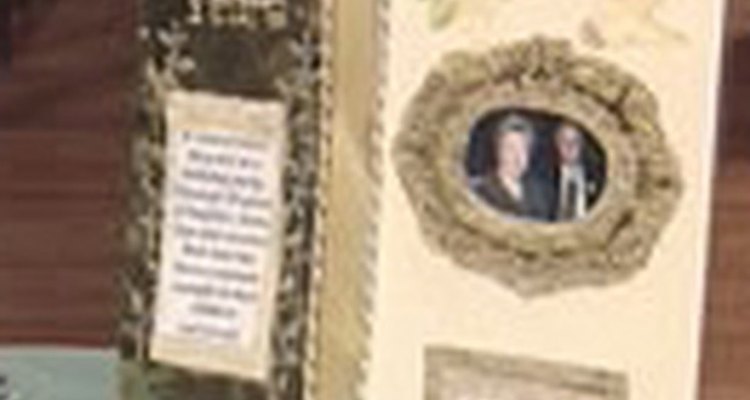 Memory book ideas for a 50th wedding anniversary are plentiful. Memory books make the perfect gift or party accoutrement for the event. Create one in advance of the special couple's big day and present it to them to share with their family members and friends. You'll have almost as much fun making the memory book as you will when you share in the delight that it will bring.
Online Memory Book Creations
Scan photographs from the celebratory couple's wedding day and other photos of them over the years. Once in your computer, they can be uploaded to sites like Kodak Gallery, Shutterfly or Snapfish. These sites sell memory books you can custom create online. You will be provided with ample choices, from the size, layout, cover, and theme of your memory book, to options for adding text.
All three sites provide comprehensive step-by-step tutorials and even offer phone numbers to call if you have a question. The result is a beautiful hard bound book that will be a keepsake treasure to pass down through the generations.
Scrapbook Memory Book
Your local craft store likely has an entire section devoted to scrapbooking. Here you'll find everything you need to create the perfect memory book for a 50th wedding anniversary celebration. Hard bound scrapbooks, embellishments like stickers, fabric, ribbons, emblems, and decorative paper photo frames will soon fill your cart before you head home to put your book together.
Gather photographs and a variety of mementoes (notes, ticket stubs, postage stamps, etc.) from the past fifty years and incorporate them into the scrapbook. Not only will you be categorizing these precious memories, you'll be preserving them as well. Scrapbooking supplies are made with acid free materials that prohibit the breakdown and yellow of paper, including photos and will help preserve them for future generations.
Group Memory Book
When you send out invitations for the 50th wedding anniversary celebration, ask friends and family members to share a memory of the happy couple and to send this to you in advance of the party. Designate a size of scrapbooking paper and ask them to attach the memory to a piece of acid free scrapbooking paper in these specific dimensions. Their memories may be in the form of photos, poetry, notes they've jotted down or pieces of memorabilia from events attended. Ask them to be sure to sign their names to their memories and return them to you by a set date.
Your job (in addition to creating your own page) is to assemble these memories into a scrapbook. Purchase plastic page protectors for each page, and slip them on after each has been placed in the scrapbook. This will result in a wonderful group effort and will even allow those who may not be able to attend the gathering an opportunity to participate in the very special day.
References
Writer Bio
Kimberly Ripley is a freelance writer and published author from Portsmouth, N.H. She has authored five books and hundreds of articles and short stories. Her work has appeared various publications, including "Parenting," "Writer's Digest," "Vacations" and "Discovery Travel." She studied at the University of Maine and later pursued her writing studies through numerous classes and workshops.