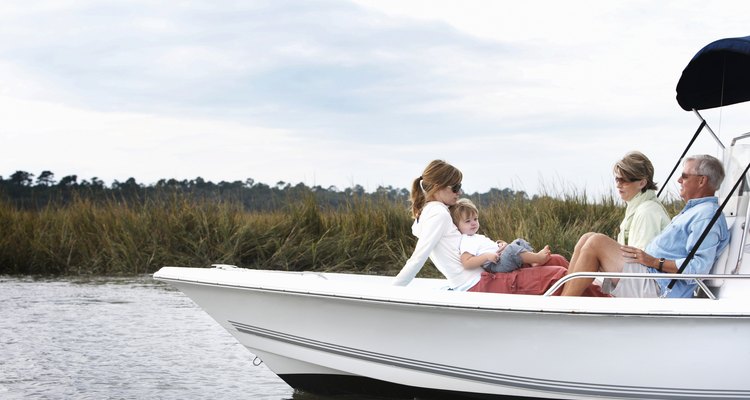 Thomas Northcut/Digital Vision/Getty Images
You can express your gratitude to your family in a unique way that will create a lasting impact. Gratitude not only brings happiness to your loved ones, but will also benefit your own health and well-being. In a study published in the "Journal of Personality and Social Psychology," Robert Emmons found that people who practiced gratitude for 21 days were 25 percent happier, more optimistic and more productive than those who did not. Show your appreciation for your loved ones in unforgettable ways.
Special Activities
Plan a special outing in which all of you can experience a special adventure you've never tried before. Visit a state park and hike up a mountain, rent an RV and take a vacation or host a party for your entire family with a fun and unique theme. With a bigger budget, you can rent a house or cottage and organize a family getaway. The important thing is to take the time to plan a unique activity that everyone will remember for years to come.
Personalized Thank-You Notes
Purchase a set of thank you notes and write a special message for each of your family members highlighting the qualities that you appreciate in them. Surprise them by leaving their card in an unexpected place, such as their lunch bag or car windshield. You can also fill up a mason jar with paper strips on which you write specific things you are thankful for, such as "Thank you for driving me to work when my car broke down." Create a video for each family member, thanking them for all they've done for you.
Family Memories
Show your family how much you appreciate having them in your life and enjoy all the memories you share. Create a family scrapbook and include messages of gratitude. Choose one word that represents each family member and decorate their page with messages and pictures that express how grateful you are for that quality in them. Create gift baskets with old photographs, candy and favors that remind family members of good times you have enjoyed together. Photo gifts, such as printed mugs, calendars and T-shirts with old family photos and a thank-you message can also show your appreciation for family memories.
Handmade Gifts
You don't have to buy something fancy or expensive to thank your family. Your family will value the thought, time and work you put into creating handmade gifts. Purchase inexpensive candles and wrap them with a label that has a special message for each member, such as "Mom, thank you for always listening to me." You can also make personalized gift baskets of each family member's favorite items, such as sports memorabilia for your brother or lotions and other spa items for your mother.
References
Writer Bio
Lauri Revilla has been writing articles on mental health, wellness, relationships and lifestyle for more than six years. She moved to San Antonio, Texas, from Mexico in 2006. She holds a Master of Science in Psychology from Our Lady of the Lake University.
Photo Credits
Thomas Northcut/Digital Vision/Getty Images