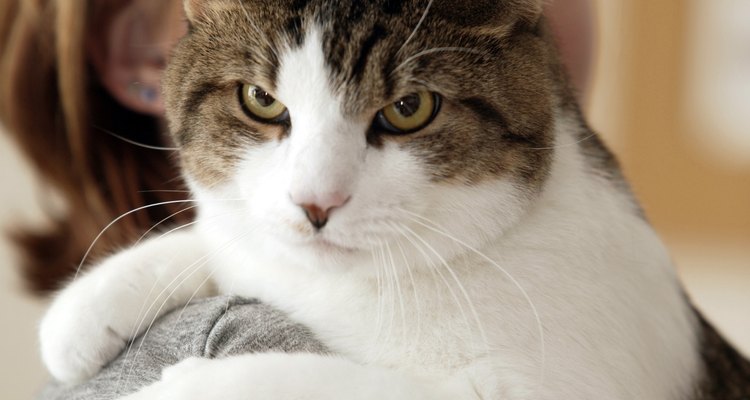 Comstock Images/Comstock/Getty Images
More than nine in 10 pet owners, or 91 percent, view their pets as members of their family, according to a 2011 Harris Poll. This is why families are often devastated when a pet passes away. Pet owners can go through the same stages of grief when they lose a pet as when they lose a close friend of family member, notes Reverend Betsy Salunek, a hospital chaplain, in an article on the Mother Nature Network website. If someone you know is grieving the loss of a pet, you can send a tasteful gift to offer your sympathy and comfort during the grieving process.
Send a Sympathy Card
It's appropriate to send a sympathy card. Stores often offer sympathy cards specifically for the death of a pet. Regardless of what type of sympathy card you send, whether it's a generic bereavement card or one for pets, make it personal by adding a handwritten note expressing your own words of sympathy. For example, you might include some specific memories or impressions you had of the animal and/or let your grieving friend know that you understand what the animal meant to her.
Send a Donation to a Shelter
When humans pass away, some people choose to send a charitable donation to a hospital or research facility in deceased person's honor to help memorialize her and make a difference going forward. You can do the same thing with pets. National organizations, such as the American Society for the Prevention of Cruelty to Animals, as well as many local community animal shelters, accept donations in honor of pets. This shows your friend that you value not just his pet's memory, but also the difference that pets make in people's lives.
Send a Memorial Item
During the grieving process, people often like to have something physical to hold and represent their pet's memory. Consider gifting your friend with a small ornament or token item that can serve as a memorial for the pet. For example, you might give your friend a dog- or cat-emblazoned key chain that ideally has a likeness to the pet, or if you have a digital image of the pet, have a plate or mug made that displays the pet's photo. Alternatively, if your friend is burying the pet in his backyard, helping cover the cost of a memorial statue or headstone can exemplify your sympathy.
Send Flowers
Sending flowers is a traditional way to express your sympathy to someone who is grieving the loss of a pet. Try sending a potted plant -- perhaps one that blooms -- instead of an ordinary cut bouquet, as a plant is a living testament to the pet's life, notes Jessica Pierce, author of "The Last Walk: Reflecting On Our Pets at Life's End" in a 2012 "Psychology Today" article. You can include a note or a poem with the plant to help personalize it further.
References
Writer Bio
Joshua Duvauchelle is a certified personal trainer and health journalist, relationships expert and gardening specialist. His articles and advice have appeared in dozens of magazines, including exercise workouts in Shape, relationship guides for Alive and lifestyle tips for Lifehacker. In his spare time, he enjoys yoga and urban patio gardening.
Photo Credits
Comstock Images/Comstock/Getty Images