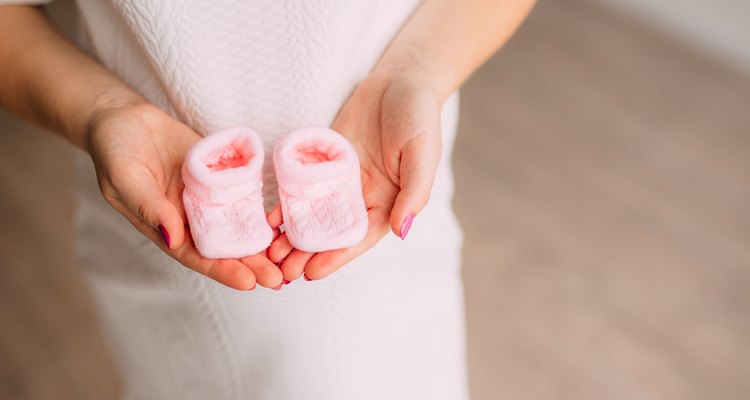 Nadtochiy/iStock/GettyImages
Share Your Baby News With Creativity and Joy
Now that your pregnancy is confirmed by a stack of positive pregnancy tests and telling discomforts like morning sickness, you can hardly wait to share the news. It is not easy to keep such a big secret under wraps, especially when you spend so much time imagining sweet little baby eyes gazing into yours, tiny toes, stacks of diapers and a nursery that looks like it came straight out of a magazine. Include friends and family in your big news at the right time, in a way you will remember forever.
Timing Is Everything
Often, excited parents keep their news quiet until after the first trimester, once the greatest risk of miscarriage passes. It is not taboo to share earlier when you need or want extra support. Healthy support systems make any difficulties easier to face. Plus, when you find yourself running to the bathroom 15 times a day and refusing wine at dinner, those around you are likely to put two and two together anyway. As long as your big announcement comes at a separate time from someone else's big news, you should be good to go.
First Things First
Start with your inner circle by sharing your baby news to them personally before shouting it out to the rest of the world. Include your partner, then your closest family, friends, supervisor and colleagues before you make a big announcement to thousands of people on Facebook, Instagram or Twitter. It is okay to prioritize who you tell first. Perhaps in your excitement, you tell your partner, mother and best friend as soon as you see two lines on a pregnancy test. Your boss at work can wait until nausea interferes with your day, while perhaps you share with the rest of the world after the first trimester or at viability at 24 weeks.
Creative Announcement Ideas
Get creative and express your personal style through your pregnancy announcement. Hire a photographer to capture a family portrait in shirts that say you are expecting. Order mugs labeled with each person's relationship to the new baby (grandma, grandpa, aunt, uncle) and invite everyone over to enjoy coffee and baby-shaped cookies. Visit the doctor for a DVD of a 3D ultrasound set to music and invite family or friends over for a movie night, complete with pink and blue popcorn and nonalcoholic cocktails. Host a dinner party with a baby food theme and see how long it takes everyone to catch on. If it is okay with everyone involved, take photos and videos to share on social media when you are ready to announce your pregnancy to the rest of the world.
Different Strokes for Different Folks
Mix up creative announcement ideas and let the cat out of the bag in different ways with different folks. Cook a candlelit dinner for your husband and place a card on his plate addressed to, "Daddy." Mail your parents sweatshirts that say, "World's Best Grandparents," with a sentimental note on the back of an ultrasound picture. Let your best friend meet you for lunch after an ultrasound appointment and share some of your first photos with her. Heartfelt, personal and fun announcements let your loved ones know you care about including them in your life and in your news.
Practice Sensitivity
Pregnancy is not an easy topic for everyone, so remember to practice compassion and sensitivity as you share your news. Big, joyful celebrations are appropriate when you know that those around you are likely to be as excited as you are about your baby. Sometimes family dynamics, issues with infertility, miscarriage or personality type make a big reveal inappropriate, awkward or uncomfortable. In these situations, a simple one-on-one meeting over coffee or phone call is probably a better bet. Cushion your announcement with compassion, listen actively and remember than no matter how they take the news, you are still allowed to feel excited and joyful.
References
Writer Bio
Anne Kinsey is a Certified Trauma Recovery Coach and missionary, residing in rural North Carolina. She is the founder of Love Powered Life, a nonprofit organization with the mission of creating loving community for trafficking survivors and their families. Anne has enjoyed writing for publications like Working Mother, the San Francisco Chronicle, the Houston Chronicle, Bizfluent and Career Trend. She resides in rural North Carolina with her husband, three children and a house full of furry friends.