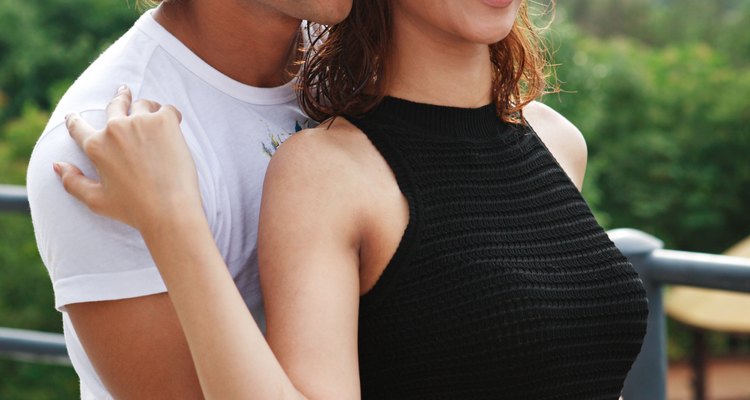 Visage/Stockbyte/Getty Images
If you and your ex have children together or run in the same social circles, inevitably you will hear when your ex becomes engaged to be married. Appropriate etiquette is that you hear it from him directly if you have children together, according to Tracy Guth with The Knot. Behave like an adult when you do.
Honest Delight
If you still care about your ex, be happy for him and express your honest wish that he and his new love have a long and happy life together. This might be easier if you are in a stable, committed relationship, but even if you are not, remember the announcement isn't all about you. Put on your best adult face, smile and say, "Congratulations!" like you mean it.
Shared Kids
If you and your ex share kids, you want to discuss how things will change and get to know his fiancée when you offer your congratulations, suggest The Wedding Channel. His fiancée will be your kids' new step-mom, so it's appropriate that you get to know her and become acquaintances, if not actual friends, suggests step-parenting expert and therapist Jann Blackstone, PsyD. on her Bonus Families website. Start by congratulating him on the news and ask to meet the fiancée for a private discussion without the kids around. Congratulate her, too, and then talk practical changes that will occur. You can ask if she has kids that will also be part of the new family so you know what your kids will be facing.
Strained Relationships
If you and your ex didn't part amicably, you might find yourself not wanting to congratulate him at all. Set a good example for friends, family and acquaintances by congratulating him anyway. Try to be gracious and friendly. Perhaps a new love will ease the strain between you and allow you both to lay old hurts aside.
Long-distance Congratulations
If you and your ex don't share kids or a social circle, you might have heard the news through the grapevine or social media. If you have a phone number for him, you can phone or text him your congratulations. If you don't have a way to connect directly with him, you could leave a congratulatory message on his social media account or send it to him in an email. A congratulatory card is also an appropriate way to send your best wishes.
References
Writer Bio
Rev. Kathryn Rateliff Barr has taught birth, parenting, vaccinations and alternative medicine classes since 1994. She is a pastoral family counselor and has parented birth, step, adopted and foster children. She holds bachelor's degrees in English and history from Centenary College of Louisiana. Studies include midwifery, naturopathy and other alternative therapies.
Photo Credits
Visage/Stockbyte/Getty Images