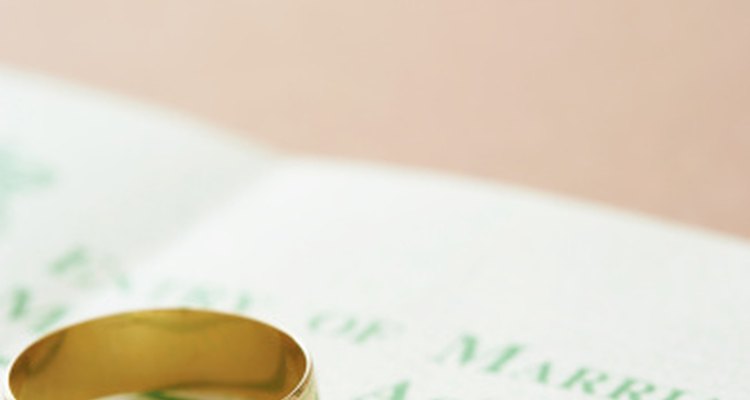 Martin Poole/Photodisc/Getty Images
A couple reaching an incredible 50 years of marriage is always cause for a big celebration. Five decades of love and commitment, meeting major milestones and embracing everyday life together is a success story worth honoring in a special way. Depending on the couple's desires, your budget and all manner of logistics, this could mean a huge party, an intimate gathering, a special outing or something in between. No matter the size and style of celebration you plan for your loved ones' golden wedding anniversary, it takes considerable time, effort and thoughtfulness to fete such a worthy and wonderful event. Here are a few ideas to inspire you.
A Golden Gathering
Tradition says 50 years is a couples' golden anniversary, so embrace the glitz and glamour of this built-in theme. For a party big or small, golden accents ensure the decor is fit for a 50th anniversary celebration. White is a beautiful and always classy choice as a neutral foil to glimmering gold, and it keeps the overall look tasteful instead of gaudy. Set tables with white tablecloths and gold-colored silverware, gold-rimmed white plates and wine glasses, and white blooms set inside gold-accented vases. Use a gold pen to hand-write place cards and other notices. Decorate with photos of the couple inside gold picture frames, and give out gold foil-wrapped chocolates as hostess gifts.
Extra! Extra! Read All About It!
If you know that the celebrating couple reads a local newspaper, consider buying a full- or half-page display ad to use as a surprise congratulations announcement. In smaller local publications, the cost can be quite reasonable, and there might be a graphic designer on staff who will work with you to design the ad at no extra cost. Include a photo or two, along with a special message to the couple. Ideally, the couple will spot the ad while browsing the newspaper (as will at least some of their friends and neighbors), but be sure to pick up several issues yourself in case they miss it.
A Party Theme: 50 Years Ago Today
Start planning early for a party with the theme of 50 years ago – the year the happy couple got married. Create a playlist of popular songs from that time, ask guests to wear clothing of the era, and print out major newspaper headlines and stories from the wedding year to incorporate into the decor. Make the party theme more personal by discovering details about the couples' wedding day, whether subtly from the couple or by asking older friends and relatives who attended. You can also look at wedding photos for clues. Recruit a baker to re-create their wedding cake, and serve the same foods that were served at the wedding reception. Play the song that was the couple's first dance, and decorate the couples' car as if they just got married.
Make a Movie of Messages
If you or a family member is skilled at making movies, recruit them to compile clips recorded by the couples' friends and family members. Those who can't attend a party or celebration in person can record their own greetings or tell a story about the couple using their own camera or phone, then email the clip to the video editor along with photos and other memorabilia. Still images and videos can be compiled into a movie for the couple to watch on their anniversary.
Take a Trip Down Memory Lane
If it's feasible, take the celebrating couple on a real trip down memory lane, driving them to visit the church or other venue where they got married, along with parks, beauty spots or any still-existing places where they had their first dates. If they had a honeymoon somewhat locally, you could treat them to a return visit there. Discover other significant spots from their lives together 50 years ago by chatting with the couple, along with friends and family who spent time with them then, and researching the places that might be still around today.
A Couples Cruise
If your budget stretches to it, or you can get others to contribute, consider a cruise as an unforgettable anniversary gift for the couple. If they love the sunshine, perhaps the Caribbean would be ideal, or maybe they've always talked about seeing Alaska. A cruise is great as a gift because the planning and details are all covered, and it's a stress-free way to travel. Most cruise lines offer guided tours and excursions to suit passengers of all ages, physical abilities and adventurousness, so they can be tailored easily to older couples. Take away any worry about such a trip by making any necessary arrangements for pet sitting, house sitting or time off from work and other commitments. Include some onboard credit to cover expenses during the cruise if the couples' budget is a concern.
References
Writer Bio
Joanne Thomas has worked as a writer and editor for print and online publications since 2004. Her writing specialties include relationships, entertainment and food, and she has penned pieces about subjects from social media tools for Adobe to artists' biographies for StubHub. Thomas has also written for such names as Disney, Hyundai, Michelob and USA Today, among others. She resides in California and holds a bachelor's degree in politics from the University of Bristol, U.K.
Photo Credits
Martin Poole/Photodisc/Getty Images