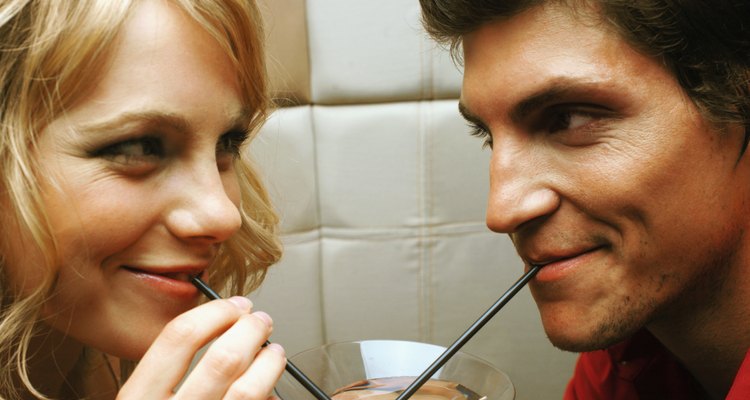 Stockbyte/Stockbyte/Getty Images
You've heard that regular date nights are good for you marriage. However, after another dinner and movie, you might be getting bored of the same old same old. It's a good idea to switch things up and try something new. Boredom is the silent relationship killer, but novel and arousing activities are a powerful antidote, says Amie M. Gordon, Ph.D., in the Psychology Today Article "An Antidote to Boredom in Your Relationship."
Arts and Crafts
Take a class. Anyone who has seen the movie, "Ghost," knows how romantic it can be to create art together. Many communities offer pottery, painting, printmaking or other art classes. Call your local Parks and Recreation department to see what they offer. Many cities have an Art Association that offers classes, as well.
Go back to school. Many local colleges are a great place to experience the fine arts. Check with a college or university in your area to see if they have a current art exhibition, foreign film festival, symphony, dance or play performance.
Outdoor Fun
Gaze at stars. Gather pillows, blankets and a basket of snacks. Drive to a location away from city lights where the stars are more visible. Try to identify constellations. Count falling stars and share with your spouse the wishes you make.
Go on a photo scavenger hunt. Make a list of places or items you would find in your city, such as a drive-through restaurant, a fire hydrant, a trampoline or park swings. Then, go on a scavenger hunt and take a picture of the two of you kissing at each location.
Try a new sport. Learn to play tennis, go boating or try mountain biking. Water sports have the added bonus of getting to see your spouse in a bathing suit.
Stay Home
Get cooking. Fondue is an easy and fun meal to make. You could also make homemade pizzas together. Another option is to enjoy a barbecue with just the two of you.
Laugh it up. Pop some popcorn and find a comedian on the comedy channel on T.V. Browse through funny videos on the internet.
Camp out indoors. Make a blanket fort in the front room. Bring sleeping bags and pillows and camp out overnight. Tell each other ghost stories.
Spice It Up
Strip (anything). You can turn any game into sexy fun by making it a stripping game. Try strip poker, strip Go Fish, strip checkers or strip Monopoly. Come up with creative consequences for "Go to jail."
Play Truth or Dare. This game is a great way to increase your emotional and physical intimacy. You can ask questions to get to know your spouse better, like "Who was your best friend growing up"" or "What would you do if you won the lottery?" You could also ask questions to help you get to know each other sexually, such as "Is there a position we've never tried that you would like to?" or "Tell me one of your fantasies." You could follow up with dares that let you explore your new-found knowledge.
References
Resources
Writer Bio
Based in Southern California, Shelli Proffitt Howells has written numerous articles about family life, marriage and parenting. She is a member of the American Night Writer's Association. She has a Bachelors of Science in zoology from Brigham Young University, which she has found surprisingly helpful while raising a large family.
Photo Credits
Stockbyte/Stockbyte/Getty Images