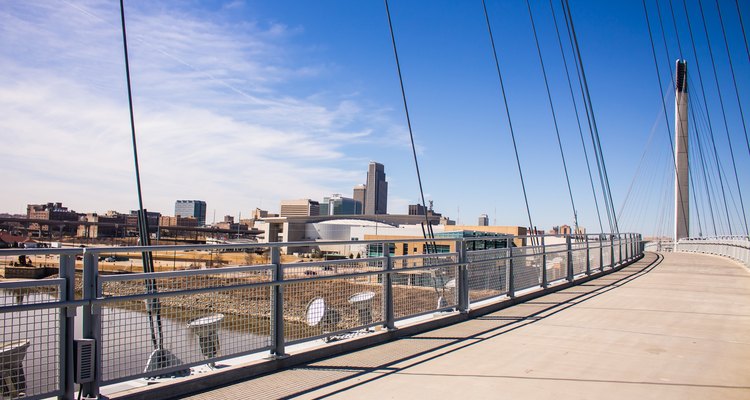 f1monaco31/iStock/GettyImages
Out and About in Omaha: Free Family-Friendly Fun in the City
Omaha, NE, is named after the U-mo'n-Ho'n people that once inhabited the windswept plains. The name means those going against the wind or current. The city's history is rich in those that beat the odds or did things differently, including pioneers, railroad workers, meat packers and explorers. Its ultra-modern downtown is the place to find free things to do that celebrate Omahans' innovations through the years.
Go Bobbing
While you're in the city, walk all over Bob. The 3,000-foot-long bridge is more than one of the longest pedestrian bridges ever constructed—it's also a bridge with personality. The Bob Kerrey Bridge (705 Riverfront Dr., Omaha, NE) has its own vlog, and Instagram and Twitter accounts that will keep the kids entertained on the way into the city, making it an ideal place to begin sightseeing. Pack swimsuits so they'll be easy to get to: Bob has his own splash park at the base. Take a walk across the bridge to take great pictures of the Omaha skyline. Don't forget to go bobbing in the middle: Snap a selfie while standing in two states at the same time.
Hit the Trail With Lewis and Clark
The Lewis and Clark National Historic Trail Visitor Center (601 Riverfront Dr., Omaha, NE) is a great place to get kids hands-on with the history of the expedition. Located right next to the Bob Kerrey Pedestrian Bridge, the visitor center has interactive exhibits, a native plants garden and a bookstore. Start by viewing a 20-minute video of Ken Burns: Lewis & Clark: The Journey of the Corps of Discovery DVD. The two-disk, 240-minute full-length version is available for sale in the bookstore. Kids will have fun playing dress-up and getting hands-on with animal pelts and replicas of artifacts from the explorers' famous journey. Meander along the riverfront outside to check out the tipi and sculptures at the Lewis and Clark Landing (345 Riverfront Dr., Omaha, NE). The public park lies immediately south of the visitor center.
Do the Do Space
Visit a library of the future at Do Space (7205 Dodge St., Omaha, NE). What you do here is limited only by your imagination. Instead of books, find computers galore, a 3-D printer, a 3-D scanner, a large format printer and more. You don't have to be a computer geek to enjoy time at Do Space. There's options for tots through teens, and for adults of all ages and abilities. Check out a tech kit for a mind-blowing, on-your-own tech experience. The Dash and Dot kit has two robots and an iPad Mini with apps that let youngsters discover visual coding through creative play as they move the robots around, make them play tunes on a xylophone and accomplish other more complex feats.
Get Artsy
The Joslyn Art Museum (2200 Dodge St., Omaha, NE) is filled with kid-friendly spaces and activities to engage your child's imagination. Head to the outdoor discovery garden for colorful interactive fun and memorable vacation photos. There's a giant pencil bench, sky-scraping noodles, alphabet letter sculptures and more. Inside, borrow an art pack from the Scott EdTech Gallery on the lower level. Each age-appropriate pack has family-oriented activities to help kids connect with themed artwork.
Go Downtown
The Old Market Business District is filled with free things to do in Omaha's historic downtown. Walk the cobblestone streets between historic buildings, listen to street musicians and watch horse-drawn carriages clopping by. Slide down giant slides at Gene Leahy Pedestrian Mall and walk among waterfalls and lagoons. Visit downtown on Saturday mornings for the excitement of the Omaha Farmers Market (11th and Jackson Sts., Omaha, NE) with live music, handcrafted goodies and the occasional free sample. The market takes SNAP/EBT and gives you a $5 free token when you buy $5 or more of farmers market tokens.
References
Writer Bio
Indulging her passion for vacation vagary through the written word on a full-time basis since 2010, travel funster Jodi Thornton-O'Connell guides readers to the unexpected, quirky, and awe-inspiring.