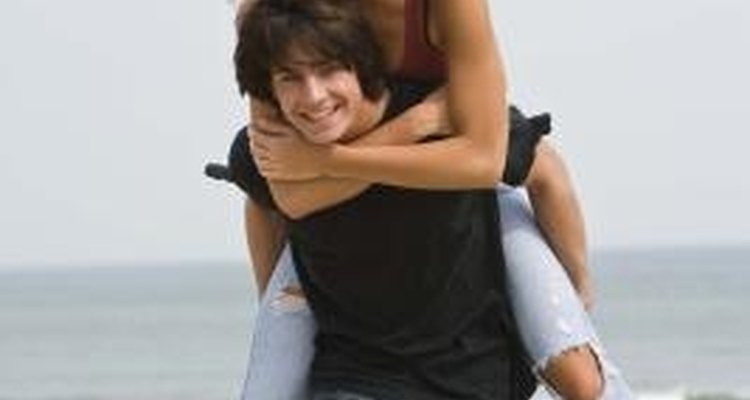 Jupiterimages/Comstock/Getty Images
Anniversaries are times to show how much you care about your special someone. They are also an opportunity to create memories and try new things. Break out of the dinner and a movie rut and try something new in honor of your first two months together.
Get Active
Lace up your skates and head to the local rink for a romantic skate. Go couples bowling. Play catch at a local park. Swim at the community pool. Shoot some hoops. Rollerblade, bike or run along the water. Build a sandcastle at the beach. Invent your own sport using equipment for different sports. When you're finished, share a dessert.
DIY Romantic Meal
Plan a do-it-yourself romantic meal instead of going out to a restaurant. This may be going out of your comfort zone, but even if it doesn't turn out perfectly you are sure to have a memorable evening. Cook a meal for yourself and your girlfriend or boyfriend, or do the cooking together. You can also pack the meal to go and have a picnic at a nearby park or beach.
Take a Field Trip
If you usually spend time together in the same places, try doing something totally different. Visit a theme park, attend a concert, check out a sports game or find an event that is happening in your community. Go to the zoo, the circus or a local festival. Play paintball, arcade games or mini-golf. Decide to give up your day to charity and volunteer together. You might uncover a passion you didn't know existed.
Make Something Together
Decide on an anniversary project you can do together. Make a short video using a video camera or your camera phone. Write a song or short story together. Buy disposable cameras and use up the whole roll of film. Decorate a bowl or mug at a pottery painting shop. Whatever you make will be a souvenir you can keep from your special day.
Give a Thoughtful Gift
Think outside the box for a gift that will be meaningful, without breaking the bank. Create a personalized playlist of songs that make you think of your special someone and burn it to a CD. Plan a scavenger hunt or treasure hunt to do in your neighborhood. Cut hearts out of construction paper and write one reason you love your boyfriend or girlfriend on each one.
Writer Bio
Kate Jongbloed is a health journalist and blogger, specializing in social issues, gender and infectious disease. She has a Bachelor of Arts in international development studies and is pursuing a Master of Science in epidemiology and biostatistics.
Photo Credits
Jupiterimages/Comstock/Getty Images