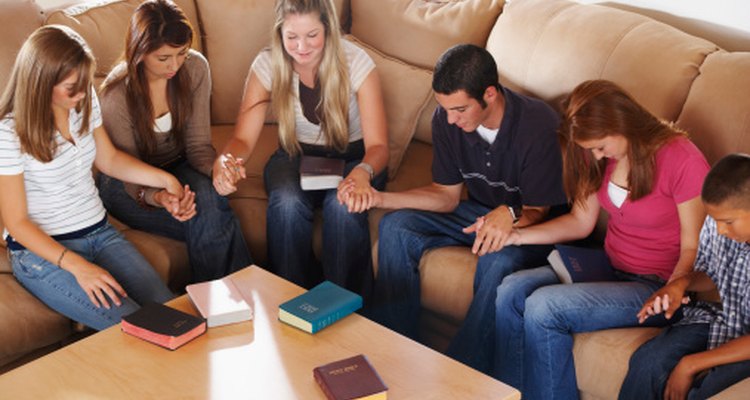 Brand X Pictures/Brand X Pictures/Getty Images
Church small groups are normally a group of fewer than 15 people who meet together on a weekly basis to study scripture and offer encouragement and support to each other. Group leaders must be intentional in providing activities that promote fellowship and bonding. It is also important to turn the group's focus outward by providing opportunity for service in the community.
Service Projects
Choose a service project that will build on the interests of the group. Ideas for service projects include serving once a month at a soup kitchen, partnering with the local crisis pregnancy center, stocking a needy family's pantry and doing yard work for an elderly widow. Host a block party in a local neighborhood to reach out to the people in that area. Provide food, drinks, games, prizes and live music to encourage attendance. Spend time getting to know guests and showing an interest in their lives. Saddleback Church in Southern California offers its small groups the chance to serve in jail ministries, serve breakfast to people living in a motel and visit elderly and disabled people to offer encouragement.
Fellowship
For a group to feel comfortable sharing with each other, they must first get to know one another. Promote this by providing opportunities for group members to fellowship with each other. Split the group into men and women on occasion to provide freedom for conversations in the safety of same-sex friends. Consider sharing a meal together before your normal group study each week – spending time talking over dinner will ensure a relaxed atmosphere between group members.
Ice Breakers
Before each group meeting, do a few ice breaker activities to get people ready for the night's discussion. These may tie into the study, but can also stand alone. An ice breaker should involve everyone in the group and will, ideally, spark thought and discussion on the topic. Discussion starters include "Describe the best vacation you've ever been on. What made it special?" or "What was one thing your parents did that you want to pass on to your children?" Brief games can also be used as an ice breaker. "Two Truths and a Lie" is a popular game. Everyone takes a turn sharing three things about themselves. Two of the statements are true, while one is a lie. The rest of the group must decide which statement about that person is a lie.
Outings
While outings may not happen on a regular basis, they are a way of getting group members out of the normal routine and fostering unity and bonding. Go camping, hiking or fishing if your group likes the outdoors. Have a picnic or barbecue at a local park. If someone in the group has a pool, spend an afternoon together swimming. Choose to meet at a local restaurant instead of the usual location. Split up into men's and women's groups – men can go golfing or watch a sporting event while women spend time at the spa or shopping.
References
Writer Bio
Rebecca Brogdon has been writing since 2003. In 2011 she began writing online instructional articles in the areas of family, education and parenting. Her blog, The Brogdon Bunch, focuses on parenting, homeschooling and adoption. Brogdon graduated from William Carey University with a Bachelor of Science in elementary education.
Photo Credits
Brand X Pictures/Brand X Pictures/Getty Images