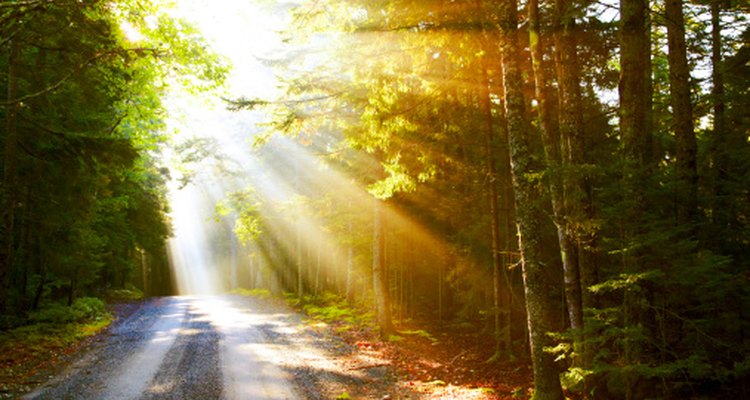 Thomas Northcut/Photodisc/Getty Images
Many churches use retreats for various groups. For example, the church administrative board may plan a retreat to determine the budget for the coming year and agree on various projects and programs that need to be on the calendar. The youth, women's and men's ministries may go on retreats to focus on spiritual growth or to build community. Married couples may attend a church retreat that teaches healthy family skills.
Learn
Some retreats provide instruction for attendees. Participants come prepared to learn. Some organizers provide the training, while others hire an outside source for the training. Free time allows participants to assimilate the material and to talk with other attendees.
Types of training vary according to the composition of the retreat participants. For example, teens could learn how to witness to friends and strangers using various methods. Sunday school teachers and youth workers attend classes that make them better teachers and familiarize them with new curriculum.
Pray
No church retreat would leave out prayer and worship. Prayer opens and closes many activities and blesses the meals. Participants may pray and worship together. Individuals can pray alone or ask for supportive prayers from the retreat leaders or other retreat attendees. Nature trails, chapels and worship services offer various venues for prayer.
Organize
Some church groups come together at a retreat to plan activities and programs. A retreat allows the planning team time away from distractions so the group can focus on the future. When new officers are elected, a retreat gives them time to bond as a working group and develop a common vision for the future. It provides a private setting for members to brainstorm ideas and reach agreement about priorities and goals. When the group returns from the retreat, they present a unified presence and purpose.
Build Community
Groups of individuals who don't know each other well can build community at a retreat. The group may include members from one church or a group of churches. For example, chaplains and lay ministers from area churches can attend a retreat that helps them get acquainted and discover the various strengths and abilities of group members so they can better serve their home churches.
Discussions, teachings, games and cooperative activities can all effective integrate members into a productive and healthy community. Organizers help group members rotate so participants have opportunities to work with all retreat attendees and achieve the best community-building results.
Grow Spiritually
Some church retreats offer participants time for quiet contemplation, meditation and individual growth. These retreats encourage participants to take time alone so they can think and set goals or examine personal characteristics. Participants can work individually on assignments, pray and seek God. These participants can also call on the retreat organizers for direction, assistance and counsel. The organizers may offer group and individual activities so participants can learn from each other and alone.
References
Writer Bio
Rev. Kathryn Rateliff Barr has taught birth, parenting, vaccinations and alternative medicine classes since 1994. She is a pastoral family counselor and has parented birth, step, adopted and foster children. She holds bachelor's degrees in English and history from Centenary College of Louisiana. Studies include midwifery, naturopathy and other alternative therapies.
Photo Credits
Thomas Northcut/Photodisc/Getty Images