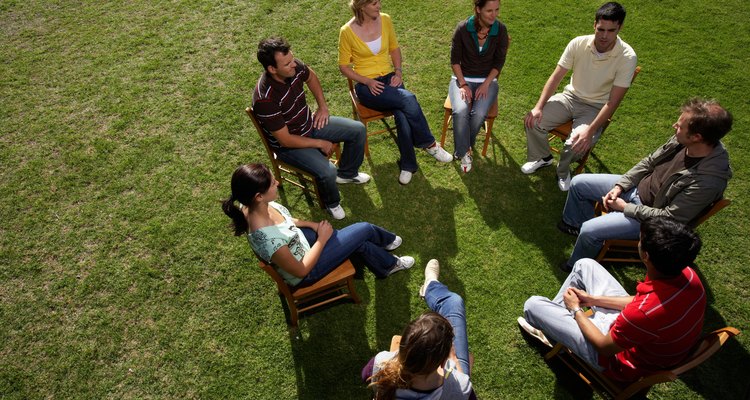 Paul Sutherland/Digital Vision/Getty Images
There are several types of counseling designed to help people function in a healthy manner and overcome various obstacles and struggles. Family counseling and group counseling both treat individuals within a small group of people. There are several similarities and differences between family counseling and group counseling.
Family Counseling
Family counseling is a form of counseling that includes an entire family and focuses on problems that affect the family as a whole, as well as problems that affect individual family members. Family counseling operates on the belief that a family unit is a system that works as a whole, with each member of the family playing their own role. Family counseling attempts to help families resolve conflict within the unit and become aware of certain dynamics that are the sources of power struggles and tension.
Group Counseling
Group counseling is a form of counseling that involves a group of people and trained counseling staff, that meet on a weekly basis and talk about different struggles and problems of individual members of the group. Oftentimes, this form of counseling focuses on a specific problem or struggle, such as overeating, substance abuse or grief. Group counseling is effective for developing social skills, learning how to relate to others, feeling accepted and offering support and motivation to others.
Similarities
There are several similarities between family and group counseling. Both forms of counseling are designed to treat individual problems with working in a group atmosphere and both are effective in treating several people at one time. In both counseling sessions, individuals are encouraged to express their feelings and learn how others perceive them, as well as provide encouragement and help to other individuals attending the counseling.
Differences
There are also many differences between family and group counseling. While family counseling focuses on the family unit and ways to make the family unit stronger and more cohesive, group therapy brings several people together who may be strangers. They may be facing a similar struggle or problem, and their counseling focuses on helping each individual deal with the problem more effectively. In most cases, a licensed family therapist leads family counseling in a therapist's office, while trained counseling staff generally lead group counseling at various locations, such as churches and community centers, with counseling programs.
Photo Credits
Paul Sutherland/Digital Vision/Getty Images