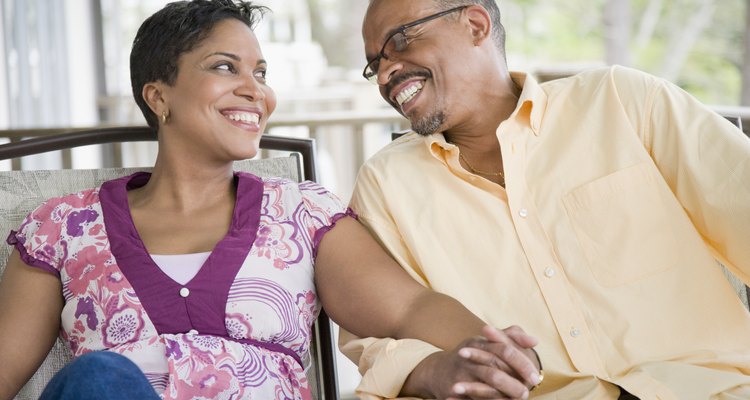 Jack Hollingsworth/Digital Vision/Getty Images
Marriage is a full-time job — you need to put in hard work and dedication in order to keep a marriage alive and healthy. Marriage Encounter (ME) is one way to start putting in that work. The Christian faith-based, interdenominational organization is committed to helping married couples work together to create stable, happy marriages. An ME weekend brings couples together to work on their relationship away from jobs, kids and everyday pressures. Couples are not restricted by age, length of relationship or faith.
ME activities take place between husband and wife following a presentation and discussion, while circle presentations occur in a group.
Threats to Marriage
Present the five major threats to marriages: difficult adjustments, insufficient preparation for living as a couple, self-centeredness, lack of commitment and affairs. Explain how each of these threats can lead both husband and wife to feel isolated and hopeless. The lead couples may share how one or more of these threats affected their marriage and how they dealt with it. Couples return to their rooms and discuss the presentation, which threat or threats may be a current issue and how to proceed.
Interdependence and co-dependence
Read Genesis 2:18-23 to the group. Discuss how God showed man that he needed a partner. Discuss the importance and differences between interdependence, healthy co-dependence and unhealthy co-dependence. Leadership couples may describe how they express a need to the spouse so that the need is heard and elicits a response.
Discuss the problems couples have when they maintain too much independence and not enough interdependence. Couples can break off to discuss this topic and assess where their relationship falls and ideas for improvement.
Communication Success
Each marriage has its own ways of communicating, so have each couple break off to discuss how effectively they communicate and which strategies they might use to try and improve their family's communication. Offer some common communication obstacles to help get the discussions going: For example, men tend communicate in a single-minded manner that relies on facts, while women's communication leans more toward relationships and community-building. Couples can discuss whether that tendency applies to them, and if so, how the difference may create conflict and introduce ways to communicate that are likely to produce positive results.
Suggest communication models that might help resolve the issues each couple discussed. One such model, taught by Dr. Gary Smalley is called LUVR -- listening, understanding, validating and responding to the partner.
Meeting Spousal Needs
A spouse is more likely to engage in an extramarital affair if the top five needs are not being met, according to Dr. Willard Harley, author of "His Needs, Her Needs." Dr. Harley identifies the 10 basic needs as: sexual fulfillment, conversation, recreational companionship, affection, domestic support, financial support, admiration, honesty and openness, an attractive spouse and family commitment. Couples can use Harley's "Emotional Needs Questionnaire" to explore how well they meet each other's needs.
References
Resources
"His Needs, Her Needs"; Willard F. Harley Jr.; 1994.
Writer Bio
Rev. Kathryn Rateliff Barr has taught birth, parenting, vaccinations and alternative medicine classes since 1994. She is a pastoral family counselor and has parented birth, step, adopted and foster children. She holds bachelor's degrees in English and history from Centenary College of Louisiana. Studies include midwifery, naturopathy and other alternative therapies.
Photo Credits
Jack Hollingsworth/Digital Vision/Getty Images