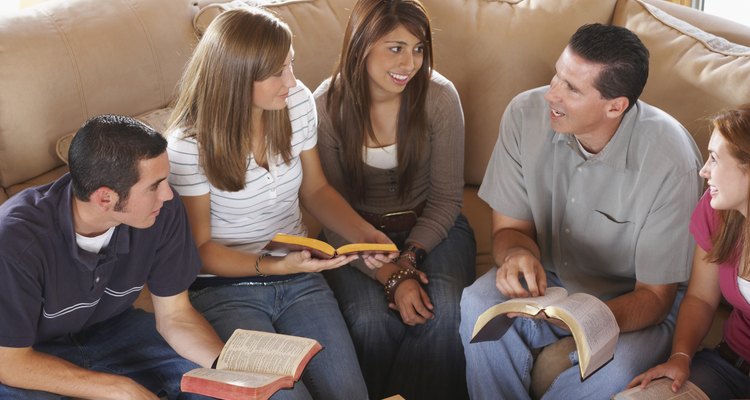 Brand X Pictures/Brand X Pictures/Getty Images
Running a church youth program will mean a lot of hard work, late nights and intense conversation, but the deep satisfaction of knowing that you are making a difference in the lives of youth will make it all worth it. Although the task of putting together a youth group may seem daunting, taking it step-by-step will make it a lot easier. Do not be afraid to ask for guidance from your senior pastor.
Create a Mission Statement
Consider what you want to accomplish. Do you want to bring more youth into the church? Do you want to develop small group Bible studies? Do you want to involve more adults in the ministry? Writing down what you want to see happen with the youth group will give you some direction.
Simplify your mission. Consider all of the goals, and summarize them in one simple sentence that you can easily tell people. For example, "To bring youth and adults together to study the Bible."
Use your mission statement to plan your activities. When you are planning an event, ask yourself if it will help you accomplish your mission. Cut out any programs or activities that do not fall in line with the mission.
Recruit Leaders
Find adults in the church who are willing to help with the youth program. Conduct thorough background checks on all volunteers.
Ask parents to help by bringing snacks, chaperoning events or driving students to and from activities.
Find students who are willing to serve on a youth leadership team. They should be willing to attend events, reach out to other students and help with set up and clean up.
Provide ongoing training for all leaders. Meet with your leaders regularly and give them helpful tips on relating to youth. Keep them informed of what is happening with the students, and check in with them weekly to see if they have any concerns or needs.
Find Youth To Be a Part of the Program
Attend school functions such as sporting events, concerts and plays. Get to know the students at the school and invite them to come to the church activities.
Have a fun event with free food. Throwing a Super Bowl party, movie night or pizza party is a great way to get youth to come and check out what is happening at the church. Advertise on social media sites such as Facebook and Twitter. Create fliers for the event and hang them up around town to advertise.
Provide incentives for youth to bring their friends. Simply offering a free candy bar for anyone who brings a friend to church will help bring more youth through your doors. Once they are there, get to know them.
Plan Activities
Plan a monthly event with the purpose of reaching out and getting to know more youth. This can be a fun party, game night, bonfire or bowling trip.
Plan weekly Bible studies that will help students learn more about the religion.
Plan yearly events that will allow students the opportunity to get away from their everyday surroundings and focus on reading the Bible and building stronger relationships with other students. Camps, retreats and missions trips all help accomplish these goals.
References
Writer Bio
Jane Rodda has been a writer since 2004, with articles featured in "Gameday Magazine" and "Urban Family Magazine." She is also the social media director and lead copywriter for a piano instruction website. Rodda holds a Bachelor of Arts in liberal studies with a concentration in psychology from Point Loma Nazarene University.
Photo Credits
Brand X Pictures/Brand X Pictures/Getty Images