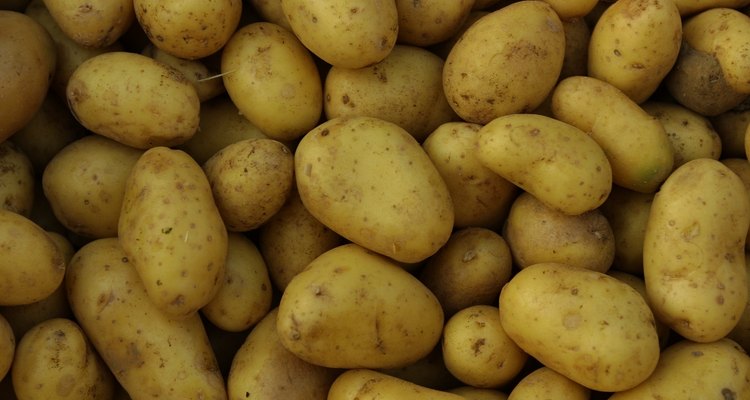 Photos.com/Photos.com/Getty Images
A complete protein contains all nine essential amino acids and perhaps many of the other 13 nonessential amino acids. It was once thought that all the essential amino acids had to be present in the same meal for the body to build the proteins it needs. However, dietitians and other researchers eventually learned that the body is able to draw from an amino acid pool to build proteins. Potatoes are technically a complete protein but are very low in tryptophan, methionine and histadine. Thus, to make a more evenly-balanced and complete protein, you need to combine potatoes with a food high in at least those three amino acids.
Add dairy. Dairy products are already a complete protein, so adding them to potatoes increases the overall amino acid content and ensures complete coverage of the essential amino acids. Use low-fat or skim milk to make mashed potatoes or add some low-fat or fat-free sour cream or cottage cheese to your baked potato.
Add soy. Soybeans are a complete vegetable protein and probably preferable for people who limit or eliminate dairy and other animal products. Tofu, tempeh, soy milk and other dairy products made from soybeans are all suitable complementary proteins for potatoes or any other incomplete protein food.
Add beans. Beans, like red kidney beans, contain higher levels of tryptophan, methionine and histadine than potatoes and help round out your meal to make it a complete protein. Try serving a baked potato with chili piled on top or cutting up potatoes to add to black bean or lentil soup.
References
Writer Bio
Chance Woods has been a personal trainer since 2002, specializing in fitness and nutrition. She holds a Bachelor of Science in dietetics.
Photo Credits
Photos.com/Photos.com/Getty Images