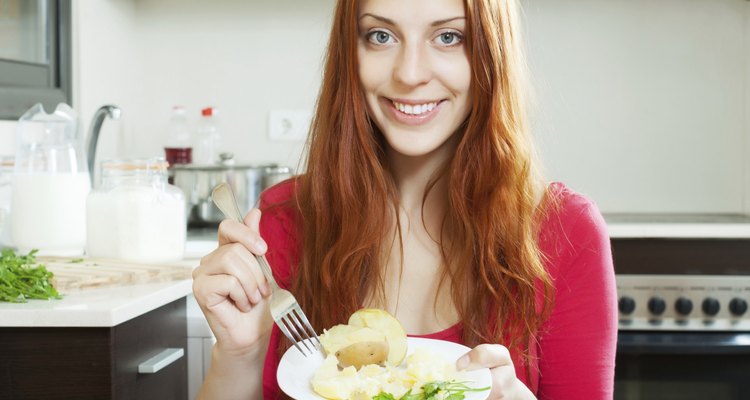 JackF/iStock/Getty Images
A baked potato with cottage cheese is a healthy source of calories since these foods contain calcium, potassium, vitamin C and fiber. A baked potato makes a delicious lunch or dinner side dish.
The Facts
One small baked russet potato contains 134 calories. A medium-size baked russet potato contains 168 calories. A large baked russet potato contains 290 calories. One-fourth cup of creamed cottage cheese contains 54 calories. A 1/4-cup serving of low fat cottage cheese contains 41 calories.
Considerations
The calorie content in a baked potato with cottage cheese varies. The size of the potato, the fat content of the cottage cheese, and how much cottage cheese you put on the potato will determine the total number of calories in this vegetable side dish.
Suggestions
When it comes to your diet, choosing lower calorie food versions is always a wise move. The National Heart, Lung and Blood Institute recommends you consume low-fat cottage cheese instead of regular cottage cheese to lower the number of calories you take in. Eat a small baked potato instead of a large one to eliminate 156 calories.
References
Writer Bio
Based in New York, Grace Covelli has been writing since 1996. Her work has appeared on various websites, many of them health-related. Covelli completed a course in writing for children and teenagers and received a diploma for natural health consulting with highest honors. She also studied reflexology, Reiki and esthetics. One of her hobbies is sewing.
Photo Credits
JackF/iStock/Getty Images