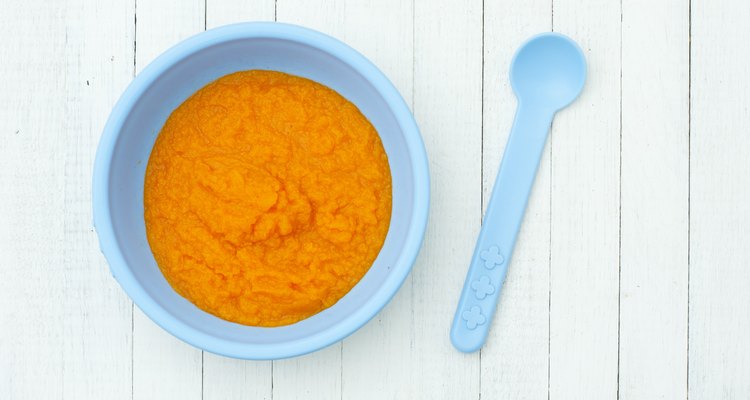 Sweet Potatoes for Your Sweet Baby
Because they cook so quickly and mash up so easily, sweet potatoes make cooking for your baby an easy task, even on a busy weeknight. Roasting sweet potatoes gives a more intense flavor, but this microwaved version cooks the spuds in one-quarter of the time.
Cook a large batch of sweet potatoes and serve the rest of your family as mashed potatoes doctored up with salt, pepper, minced garlic or a few tablespoons of prepared horseradish and finished with handfuls of chopped parsley and a dash of lemon juice to liven up the sweet potato flavor.
Total Time: 10 minutes | Prep Time: 4 minutes | Serves: 2 to 3
1 sweet potato

Pinch of kosher salt
Using a vegetable peeler, remove all the peel and brown spots from the potato. Wash the peeled potato under running water.

Chop the potato into 1-inch pieces, and place them into a microwave-safe bowl. Add about 3 inches of water.
Cover the bowl, and microwave on high for 3 to 5 minutes or until the potato cubes are very tender and you can pierce them easily with a knife.
Drain the water from the potatoes and mash them with a fork or potato masher until they are the right consistency for your baby. Stir in a small pinch of salt.
Test the temperature of the sweet potatoes by tasting a spoonful yourself before serving them to your baby.
References
Writer Bio
Susan Lundman began writing about her love of cooking, ingredient choices, menu planning and healthy eating after working for 20 years on children's issues at a nonprofit organization. She has written about food online professionally for ten years on numerous websites, and has provided family and friends with homemade recipes and stories about culinary adventures. Lundman received her M.A. from Stanford University.