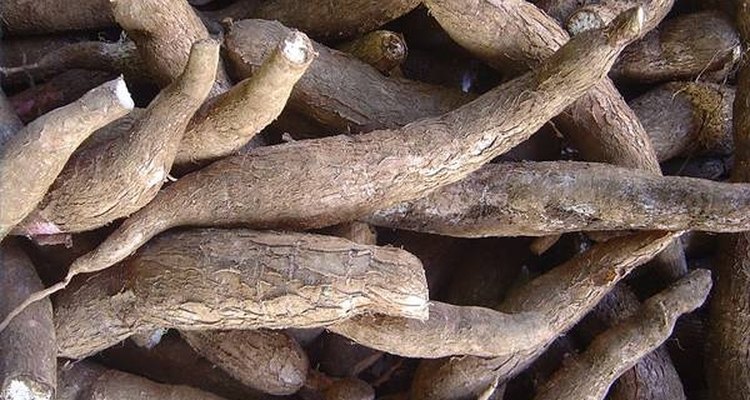 Wikimedia Commons
Yucca, also known as cassava, is a root vegetable that is often overlooked in the United States. However, it is grown as a staple food in countries in Asia, Latin America, Africa and the Caribbean. Yucca is often used in place of potatoes, and can be boiled and mashed in a similar fashion. It is also an excellent source of carbohydrates and vitamin C. This recipe yields 2 to 3 servings of mashed yucca root.
Peel the outer skin from the yucca roots with a vegetable peeler until you reach the white, fleshy interior. Dice the peeled roots into ½-inch cubes.
Add 1½ cups of water and the cubed yucca to a medium saucepan. Bring the mixture to a rolling boil over high heat.
Reduce the heat to medium-low after the water has reached a boil. Simmer the yucca for 40 to 45 minutes, or until tender. Drain all but ¼ cup of water from the saucepan.
Add salt and butter to the boiled yucca root and mash it with a potato masher until no lumps remain and the butter is completely melted. The consistency should be similar to mashed potatoes.
Season the yucca root with black pepper, rosemary and parsley to taste. Stir the spices into the mashed yucca and serve hot. Store any leftovers in a covered container in the refrigerator for up to three days.
Tips
Try flavoring the yucca root with other herbs and seasonings such as thyme, basil and oregano. Yucca root can be found in international grocery stores and in some well-stocked supermarkets.
Warnings
Be careful not to overcook the yucca roots. If they are boiled too long, they lose much of their texture and consistency, and will turn runny when mashed.
Writer Bio
Willow Sidhe is a freelance writer living in the beautiful Hot Springs, AR. She is a certified aromatherapist with a background in herbalism. She has extensive experience gardening, with a specialty in indoor plants and herbs. Sidhe's work has been published on numerous Web sites, including Gardenguides.com.
Photo Credits