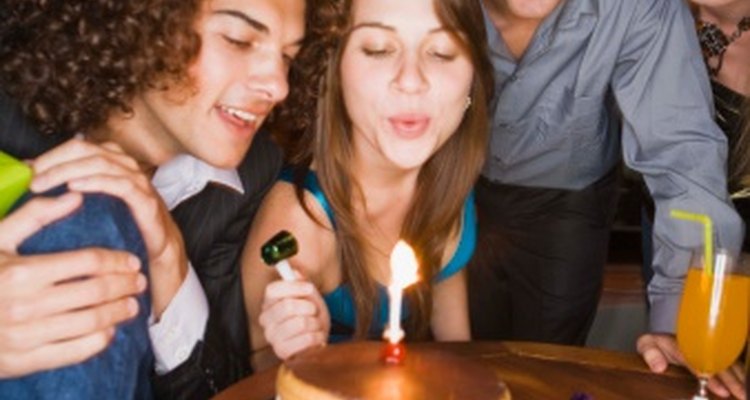 Jupiterimages/Comstock/Getty Images
Celebrating a birthday is a monumental event. For many, the plans for the big day begin months in advance planning details on a party, activities and the guests invited. For some, commemorating their birthday includes week-long festivities leading up to the actual day. If you're planning on extending your birthday fanfare for seven days, do a little now that leads up to a lot later.
Plan how you'll spend the birthday week. Decide if you want to host small events that build up to the main event or if you will do something pretty intense each day. Consider who you want to be a part of your celebration, where you'll have your events and your overall budget. Keep in mind that even if you simply want to have a dinner party each night, the supplies will add up making it expensive to serve all of your guests.
Pair together multiple events where people will be invited such as bowling on Sunday afternoon and game night on Monday. Organize your invitations so guests know when they will be expected to participate. Consider posting a schedule of your birthday plans online or distributing electronically to all guests so they know that you have a week of plans laid out.
Book all of your reservations and order all supplies needed to execute your events. A kick-off birthday dinner at a restaurant for 40 will require making reservations well in advance, asking what your decoration limitations are and finalizing the menu. Make all of your arrangements that involve any special vendors such as DJs, cake bakers and entertainment. Create a checklist and time-line to keep track of everything that needs to be done or is confirmed.
Check your budget, scale back or add more. As your plans are coming together, take a peek at your budget and determine if you are getting close to overspending or if you have room to add a few tweaks. That might mean that you can now afford to pay for the guests to have a free drink for happy hour or free entry to a theme park. With a diminishing budget, you may realize that you need to combine some of the smaller events like a dinner party with your co-workers and lunch with your friends to an after-work reception with everyone.
Have a good time celebrating your birthday! You've put a lot of work into having a good time and ringing in a new birthday year with this week-long celebration. Working on all the details may have you exhausted. Get some rest and ask for help when needed so you have actually enjoy your plans. Remember to have fun and enjoy your family and friends.
References
Writer Bio
Crystal Green is a marketing and event management consultant specializing in non-profit organizations and small businesses. Green spent the last seven years working for a statewide education association directing their trade publications, writing articles for programs' training teams and other event-related freelance projects. Green hold a Bachelor's degree in Journalism, and is currently working on advanced degrees.
Photo Credits
Jupiterimages/Comstock/Getty Images