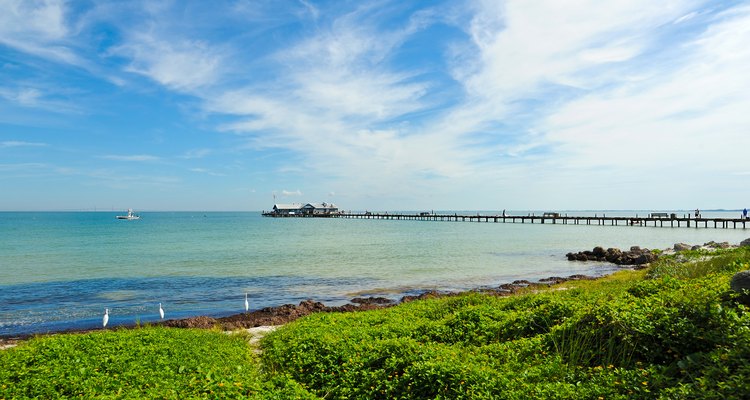 EyeMark/iStock/GettyImages
5 Family-Friendly Ways to Enjoy Florida
Anna Maria Island, FL, also known as Anna Maria Key, is a small island, but it's filled with amazing activities and sites that your whole family will enjoy. Located in Manatee County along the Western coast of Florida near Tampa, the island borders the Gulf of Mexico and Tampa Bay. The white sand of the island's numerous beaches is accessible year-round thanks to its temperate climate. It's the perfect place to relax, soak up the sun and spend some quality time with your kids.
Head to the Beach
Grab your bathing suit and head to one of Anna Maria Island's many beaches. Bradenton Beach (South Gulf Dr., Anna Maria Island, FL) is the favorite, rated the number two local activity on TripAdvisor. You'll love the clean, white sand and sparkling, turquoise water of the Gulf of Mexico, and the kids will be thrilled to leap into the waves. Visitors have even reported dolphin sightings, so keep your eyes peeled. The beach is open all year since Anna Maria typically stays above 60 degrees F even in the winter months.
Take in a Museum
The Anna Maria Island Historical Society Museum (402 Pine Ave., Anna Maria Island, FL) is a great place to learn about this small island destination, especially if you're not that familiar with Florida's many keys. It's a quirky, fun museum that tells the story of the locale's first settlers, like Tampa Mayor Madison Post in the early 20th century. It offers free admission and features the city's former jail, which will be a thrilling photo opportunity for the little ones. Kids can also participate in a museum-wide scavenger hunt, instructions for which are free from the gift shop.
Search for Shells
Bean Point Beach (793 N. Shore Dr., Anna Maria Island, FL) is the perfect spot for some prime shell hunting. The beach is home to thousands of shells, which everyone will enjoy picking through for a few souvenirs. Watch for local birds like pelicans, herons and even bald eagles, and enjoy the picturesque sunset, reminding your family that relaxing moments like these are always important.
Play a Round of Mini-Golf
No vacation is complete without a lively round of mini-golf. Bring the kids to The Fishhole Miniature Golf (115 Bridge St., Bradenton Beach, FL) where you'll breeze through an 18-hole adventure that includes a 3,000-gallon pond filled with koi and lush Florida vegetation. The course is open from 9 a.m. to 9 p.m. and costs an affordable $7.98 per person. Winner gets an ice cream cone!
Walk Along the Pier
The Anna Maria City Pier (100 S. Bay Blvd., Anna Maria Island, FL) is a great place to soak up the breezes. Munch on some local seafood or grab a line and see if you and the kids can catch a fish. When you're done checking out the sights along the pier, from the locals fishing to the diving seagulls, hop across the street to Two Scoops, an ice cream shop that features 32 flavors, including one called Gator Tracks. Go ahead and indulge in a double scoop, which costs $3.95 for a standard-sized cup or cone.