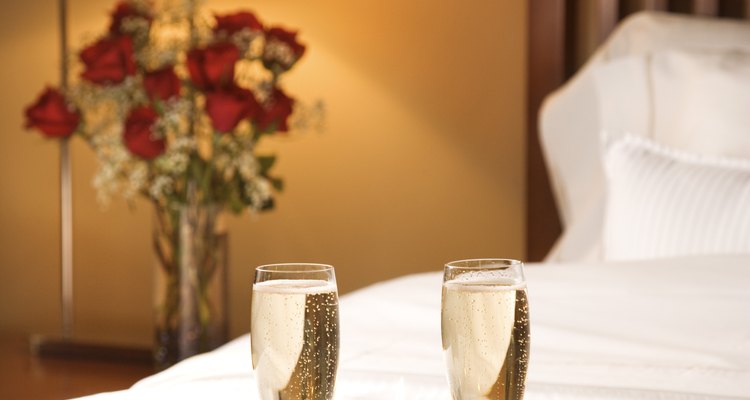 Thinkstock/Comstock/Getty Images
With the everyday stresses of work, kids and other responsibilities, it can be hard for you and your husband to find time to connect and be romantic. Spending time alone with your husband is crucial to keeping the spark alive in your relationship. An occasional weekend getaway may be just what the two of you need. Surprise your spouse with a getaway that will knock his socks off and have him falling in love with you all over again.
Logistics
Keep the element of surprise. Make sure your husband's schedule is clear the weekend you plan on taking him away, then surprise him when he gets home from work on Friday evening; have the bags packed and the car ready. If it is necessary for your husband to know about the getaway in advance, keep the destination a secret. It will make the anticipation of getting there much more exciting.
Choosing the Destination
Choose a location just a few hours away. A quick Caribbean getaway might sound enticing, but dealing with airports and possible delays can add stress, and you could spend most of the weekend in transit. Instead, opt for a location that won't take more than a few hours to drive to. A scenic train ride is also an option to get you to your destination.
Think of your husband's needs and interests when choosing the location. Aside from proximity, choose somewhere you know your husband will look forward to visiting. If he works in or near a big city, getting away to a small town or rural area could be relaxing. On the other hand, if your husband loves culture and sightseeing, a big city may be an ideal destination.
Finding Accommodations
Choose romantic accommodations. Stay at a quaint, secluded B&B if you are headed to a small town or rural area. Most inns offer super-private, cozy rooms and a hearty breakfast. If you are heading to a city, opt for a luxury high-rise suite with fabulous views. Many four-star hotels provide romantic enhancements upon request, such as rose petals scattered around the room and chilled champagne and chocolates, and many also offer jet whirlpool tubs for two.
Planning Your Activities
Plan activities, but don't over-schedule. No matter how many things you want to do, packing your day with activities from morning to night will add stress and make things less spontaneous and romantic. Instead, plan events like a romantic dinner at a swanky restaurant, but go with the flow for the rest of the time. Just see where the day takes you, whether it's exploring the city or cuddling in bed for hours on end.
Tips for Making the Weekend Romantic
Keep the romance factor high. The point of the trip is to get romantic, so go all out. Pack hot new outfits to wow him, as well as new lingerie. Flirt with him all weekend long. Take advantage of room service to enjoy romantic meals on your hotel balcony or in bed. Act like teenagers who don't have kids and responsibilities at home. Go out to a night club and dance with him. Make out in public like no one else is there. Do whatever reconnects you with your husband.
References
Tips
Take advantage of room service to enjoy romantic meals on your hotel balcony or in bed.
Writer Bio
Based in Los Angeles, Zora Hughes has been writing travel, parenting, cooking and relationship articles since 2010. Her work includes writing city profiles for Groupon. She also writes screenplays and won the S. Randolph Playwriting Award in 2004. She holds a Bachelor of Arts in television writing/producing and a Master of Arts Management in entertainment media management, both from Columbia College.
Photo Credits
Thinkstock/Comstock/Getty Images