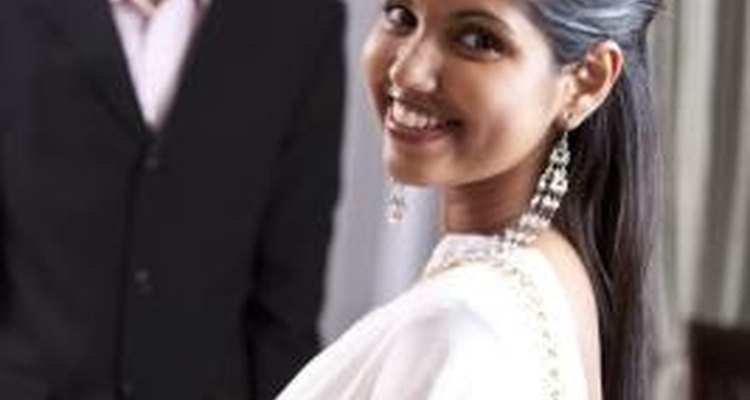 Comstock Images/Comstock/Getty Images
The saying goes, when the cat's away the mice will play. When your husband's away out of town, you might use that time to do everything from getting caught up on your favorite television show reruns to finally getting the house in order. While he's slaving away on his extended business trip, doing a little something to surprise him when he gets home is a surefire way to show him he's been missed.
Home-Cooked Meal
Surprise him with his favorite meal and all the fancy fixings to make it special. Fix his favorite drink and have it ready for him when he comes in. Let him get settled and washed up to enjoy a dinner complete with dessert. He'll be happy to see you, especially if his trip was stressful, so get yourself spruced up by wearing an outfit of yours you know is his favorite. Serve him the entire time so that he doesn't have to lift a finger.
Spa Services
Create your own in-home spa where you give him a cleansing backwash, facial and full-body massage. Help him stretch his back and relax by fully committing to pampering him for the evening. Fix him champagne and chocolate-dipped strawberries, and finish your spa session with the both of you lounging around in your robes.
Intimate Fashion Show
Pull out a few lingerie outfits you know he loves and make a purchase for a new one or two. When he comes in, allow him to rest for a brief moment, then lead him into your bedroom where you've dimmed the lights, start some music and sit him in a chair in a corner of the room. Star as the model in his own private lingerie fashion show. Don't skimp on your styling; put on matching heels for each outfit, and do your hair and makeup. If you dare, perform an innocent little striptease for him and keep your night restricted to your bedroom.
Pack Your Bags
Perhaps his trip was long but not necessarily the pits. He's happy to be home, but he doesn't require rest and relaxation to get adjusted. Surprise him with a weekend getaway where the two of you can spend a few days alone exploring a new city or cuddling in a private rental home. If he's not up for a lengthy road trip, plan a "staycation," where you two book a hotel in your city for the weekend and try local activities going on.
References
Writer Bio
Crystal Green is a marketing and event management consultant specializing in non-profit organizations and small businesses. Green spent the last seven years working for a statewide education association directing their trade publications, writing articles for programs' training teams and other event-related freelance projects. Green hold a Bachelor's degree in Journalism, and is currently working on advanced degrees.
Photo Credits
Comstock Images/Comstock/Getty Images