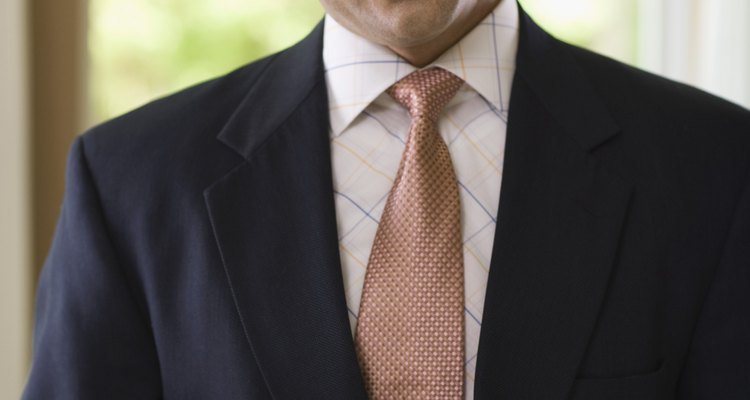 Jupiterimages/Brand X Pictures/Getty Images
Many formal events, such as weddings, dinner parties and job interviews, require a man to wear a suit. It doesn't matter how stylish a suit is, though, if it doesn't fit a man properly. The right suit gives a man a polished, put-together look, while one that's too big or too small looks sloppy and unprofessional. You can get a man's accurate suit size by measuring his chest and height.
Step 1
Ask the man to stand up as straight as possible with his arms pressed against his sides.
Step 2
Wrap a tape measure around the broadest part of the man's shoulders and upper-arm area. Take the measurement in inches. This is the over-arm measurement.
Step 3
Have the man lift his arms, then wrap a tape measure around his chest just below his armpits. This is the chest measurement.
Step 4
Subtract 7 inches from the over-arm measurement, then compare it with the chest measurement. Keep the larger of the two measurements.
Step 5
Measure the man's height from the top of his head to his feet. If the man is between 5-foot-4 and 5-foot-6, he needs a short suit. If he's between 5-foot-7 and 5-foot-11, he will need a regular suit. If his height is between 5-foot-11 1/2 to 6-foot-2 1/2, he needs a long suit. Men taller than 6-foot-3 require an extra-long or X-long suit.
Step 6
Consult a sizing chart to determine the exact suit size for the man. Find the man's height on the chart, and then look for his chest size to determine the suit size.
References
Resources
Tips
A suit's drop is the difference between the size of the jacket and the pants. Trim-fit suits usually have a 7-inch drop, and classic-fit suits have a 6-inch drop.
When measuring a man for suit pants, wrap the tape measure around his waist, just above the hip bone. This is the waist measurement. Next, measure from the crotch seam all the way down to the hem. This is the inseam measurement.
Writer Bio
Melissa King began writing in 2001. She spent three years writing for her local newspaper, "The Colt," writing editorials, news stories, product reviews and entertainment pieces. She is also the owner and operator of Howbert Freelance Writing. King holds an Associate of Arts in communications from Tarrant County College.
Photo Credits
Jupiterimages/Brand X Pictures/Getty Images