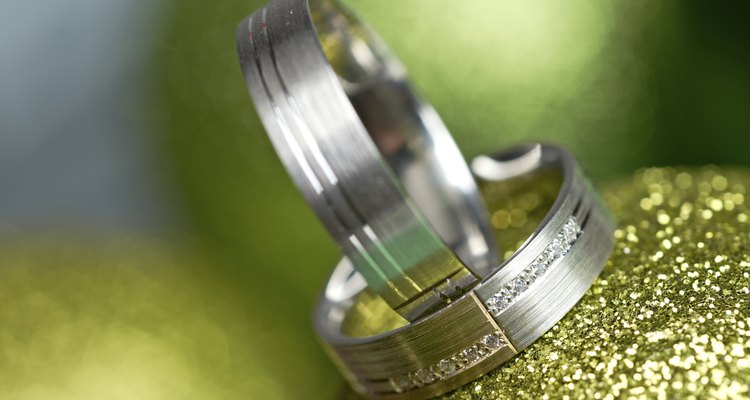 poplasen/iStock/Getty Images
Titanium and silver rings have a very similar silver-gray color, but the makeup of the two metals is totally distinct. According to the Gemological Institute of America, silver is twice as dense as titanium. Evaluating the differences between titanium and silver can help you select the right ring for you.
Titanium Jewelry Facts
Titanium jewelry is available in two forms. Pure titanium is hypoallergenic which makes it an ideal metal for those with sensitive skin. Titanium alloy blends titanium with other metals, such as aluminum. Despite being lightweight, titanium is a durable and strong industrial metal, which makes jewelry scratch resistant.
Silver Specifications
Unlike titanium, silver in its pure form is too soft to be molded into a ring. As a result, it must be combined with other metals, such as copper, to create a metal suitably hard for jewelry. Silver is a popular metal for rings thanks to its natural brilliance as well as its workability. Additionally, jewelers can apply several finishes, including high gloss, matte, satin and antiquated, to silver rings.
References
Writer Bio
Barbie Carpenter worked as a technical writer and editor in the defense industry for six years. She also served as a newspaper feature page editor and nationally syndicated columnist for the Hearst Corp. Carpenter holds a Bachelor of Science in journalism from the University of Florida and a graduate certificate in professional writing from the University of Central Florida.
Photo Credits
poplasen/iStock/Getty Images