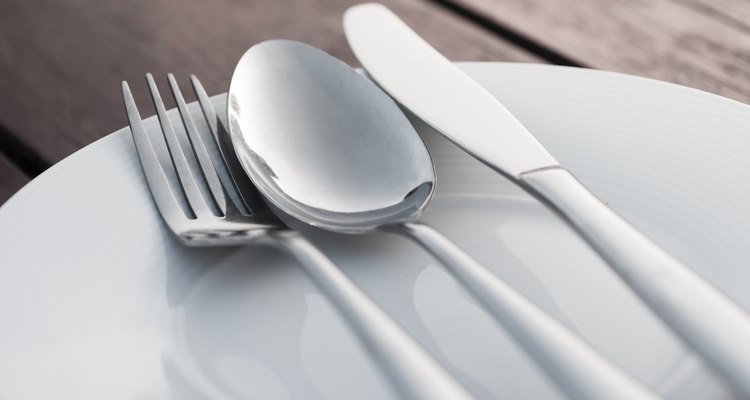 TanawatPontchour/iStock/Getty Images
Of all the alternative medicines available today, colloidal silver may be one of the most controversial. Products, such as creams and salves, that use colloidal silver take this metallic element and suspend it in liquid. The theory behind its use is that silver contains natural antimicrobial agents that promote healing. There is little evidence to suggest this is an accurate claim, and the risk factors of using a colloidal silver cream or salve on your skin may outweigh the benefits. Talk to your doctor before you consider using these products.
Background
The history of medicinal use of colloidal silver goes back as far as ancient Greece. According to Eric J. Rentz, D.O. MSc in an article for NaturoDoc, Hippocrates used silver to heal wounds and control disease. Colloidal is a term that refers to a substance that enters a solution and maintains a stable state, such as silver particles suspended in liquid. Prior to 1939, silver was given intravenously as a treatment for disease. Rentz claims silver salves were a healing medicine for severe burns in the early 1970s.
Manufacturers' Claims
Part of the controversy comes from claims made by manufacturers of creams, salves and dietary supplements that contain colloidal silver. MayoClinic.com states the cure-all promises companies make regarding the use of colloidal silver include treatment for immune system illnesses, infection, cancer, HIV/AIDS, herpes and prostatitis. No reputable medical journals provide studies to prove these claims. Many of the sites that advertise colloidal silver products have been cited by the FDA for making unproven claims of therapeutic benefits from the silver.
FDA
The U.S. Department of Food and Drug Administration, or FDA, has issued alerts regarding the claims made by those selling colloidal silver and the possible health risks of this mineral. In October 2009, the FDA produced a consumer advisory about a permanent risk associated with colloidal silver taken as a supplement. A condition, known as argyria, produces a staining on skin and mucous membranes due to use of colloidal silver. In addition, the FDA has cited and threatened to prosecute websites and stores that advertise false benefits on any item containing colloidal silver, including creams, salves, bandages and supplements.
Science
There is little science involved in the use of colloidal silver as a healing agent. Silver is not an essential mineral. The human body does not produce it naturally. The base theory regarding the antimicrobial properties attributed to silver is that many pathogens lack the resistance to circumvent silver ions, making the element toxic for bacteria. Although it is not entirely clear how silver may be harmful, MayoClinic.com claims the discoloration proves the mineral builds up in body tissue. This fact alone makes the use of colloidal silver impractical. The staining effect is permanent and may include your skin, gums, internal organs and nail beds. If nothing else, colloidal silver may be a cosmetic nightmare.
Considerations
If you're considering the use of a cream or salve containing colloidal silver, there are a few things to think about. There is no evidence that any product containing silver particles will be effective in treating a wound or skin irritation. The FDA has proclaimed definite risks associated with the use of these items. Do not apply colloidal silver to your skin if you're pregnant, breast-feeding or being treated for any chronic illness. If you do use a product with silver, limit the time you use it to avoid argyria or staining on your skin, gums and nails.
References
Writer Bio
Writing since 1999, Darla Ferrara is an award-winning author who specializes in health, diet, fitness and computer technology. She has been published in "Mezzo Magazine" and Diet Spotlight, as well as various online magazines. Ferrara studied biology and emergency medical technology at the University of Nebraska and Southeast Community College.
Photo Credits
TanawatPontchour/iStock/Getty Images